The Fabulous Fox Broadway Club
We are thrilled to announce the new 2020-2021 US Bank Broadway season! The Fox Broadway Club (seating in the first five rows) is currently sold out. 2019-2020 members will have first right to renew their current seats for the 2020-2021 season. NEW Season Ticket packages go on sale Monday, June 8.
Enjoy the BEST of Broadway from the BEST seats in the house! From the moment you take your seat, you will be captivated by the pageantry of live theatre on the Fabulous Fox Stage and enjoy all the Fox Club amenities.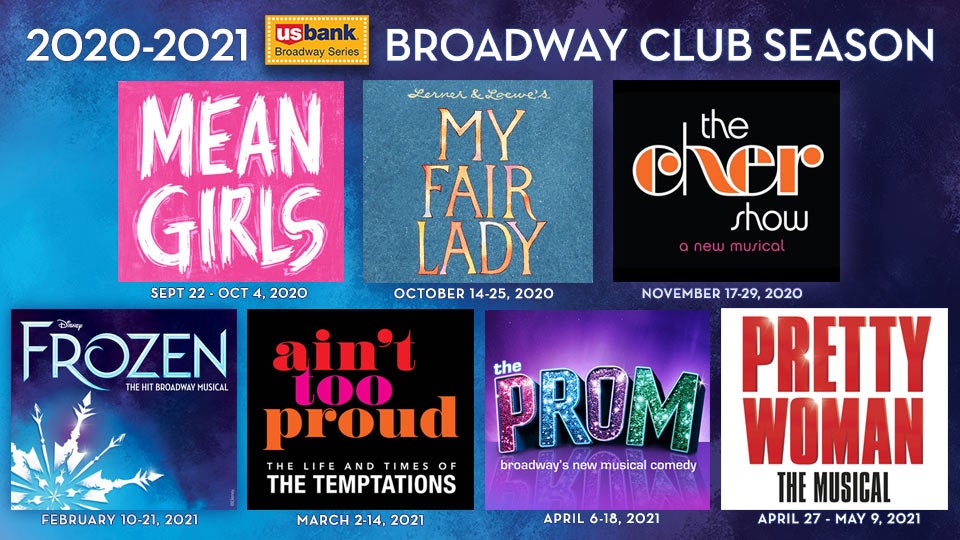 In addition to the Seven Shows in the Broadway Club Membership, we will present six exceptional BROADWAY SPECIALS this season:
As a Fabulous Fox Broadway Club Member, you will enjoy your same great seats for all seven shows in the U.S. Bank Broadway series and delight in these outstanding membership amenities:
• THE BEST OF BROADWAY FROM THE BEST SEATS IN THE HOUSE!
Seating in the FIRST 5 ROWS center orchestra for the 7-show U.S. Bank Broadway Series.
• RESERVED PARKING for the season ticket shows and Broadway specials.
• EXCLUSIVE PRE-SHOW DINING FOR MEMBERS IN THE FABULOUS FOX CLUB
• Access to the Fox Club via PRIVATE ENTRANCE and RESTROOM facilities on the Fox Club level.
• CONCIERGE SERVICE FOR:
• PRIORITY PURCHASE OPPORTUNITY for Broadway specials in the first 5 rows.
• EXTRA TICKET PURCHASE for the seven season ticket shows.
• EXCHANGE PRIVILEGES * within the same show.
• SWAP TWO * is the option to swap up to TWO of your season ticket shows into any of the Broadway Shows listed.
• EXCLUSIVE PRESALE PURCHASE OPPORTUNITY for most concerts & other single performance events
• RESERVATIONS for pre-show dining.
• PROTECTION against lost or stolen tickets.
*Prices vary by show and by performance. Prices may change without notice. Additional ticket costs may be due when swapping or exchanging tickets.
Current season ticket holders interested in relocating to Fox Broadway Club seats are encouraged to first renew your current seats. If Broadway Club seats become available, current season ticket holders will receive priority. If interested CLICK HERE and fill out our Fox Broadway Club Inquiry Form.
Information about regular Season Tickets for the U.S. Bank Broadway Series can be found on our season ticket page.