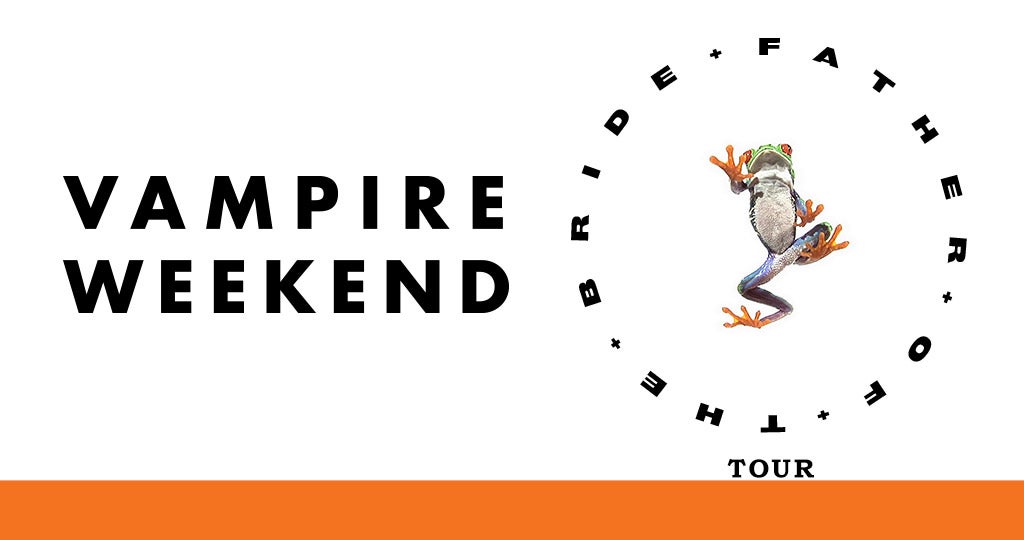 The Blues game 7 will be shown on screens in Curtain Call Lounge, in the lobby and various parts of the theatre. LGB!
---
Every ticket purchased online for US shows includes a CD copy of Vampire Weekend's forthcoming album "Father of the Bride". Fans will have the option to upgrade their CD to the standard vinyl LP. Valid for US customers only. Not valid for tickets purchased via resale. You will receive a separate email with redemption instructions within 7-10 days of your ticket purchase.
---
With Chicano Batman
Recently, Vampire Weekend released the songs "Harmony Hall" and "2021" from their upcoming fourth album, Father of the Bride, to an ecstatic critical reaction including:

"Sprawls out with lush symphonies, communal vibes aplenty"—Billboard

"Wraps misgivings in three-chord elation"—The New York Times (Playlist lead)
"A vibrant romp that seamlessly blends folksy fingerstyle guitar, '90s rave music, a gospel choir, baroque piano, and the Grateful Dead… it's absolutely delightful"—Stereogum

Father of the Bride will be released spring 2019 on Columbia Records.
In other news, congratulations are due to Vampire Weekend and XL Recordings on the band's eponymous debut album being certified Platinum by the RIAA for U.S. sales in excess of 1,000,000.
Vampire Weekend was released January 29th, 2008 by XL, and debuted at #17 on the Billboard Top 200 charts. In addition to being newly certified Platinum in the U.S., the album has previously been certified Platinum by the BPI in the UK, and Gold by Music Canada and ARIA in Australia.
The first band to grace the cover of SPIN magazine before an album was even released, Koenig, Baio, Tomson and former member Rostam Batmanglij met in 2005 at Columbia University in New York City. "Even without an album, Vampire Weekend has made one of the year's most impressive debuts," said The New York Times of the band's earliest recordings.

The accolades continued through the album's release, as Vampire Weekend appeared on 2008 Top 10 lists of Time, NPR, Rolling Stone, New York Magazine, Pitchfork and countless others, as well as winning the NME award for "Best New American Indie/Alternative Band." The band also made its first of three appearances on Saturday Night Live, as well as debut performances on The Late Show with David Letterman and Jimmy Kimmel Live!.

Since their debut, Vampire Weekend have released two additional albums, both of which debuted at #1 and have been certified Gold in the U.S.: 2010's GRAMMY-nominated Contra, and 2013's Modern Vampires of the City, which won that year's GRAMMY for Best Alternative Album.

Read More
Date Information

Pricing Info

Everyone must have a ticket, regardless of age.
Prices are subject to change.

Ticket Limit: 6

PLEASE NOTE: Persons who exceed the ticket limit may have any or all of their orders and tickets cancelled without notice by MetroTix in its discretion. This includes orders associated with the same name, e-mail address, billing address, credit card number, or other information. The Fox Theatre and MetroTix reserve the right to revoke tickets that end up on the secondary market.

| TICKET TYPE | TICKET PRICE |
| --- | --- |
| Orchestra Pit | $85.00 |
| Premium Orchestra | $69.50 |
| Front Orchestra | $69.50 |
| Center Mezzanine | $49.50 |
| Mid Orchestra I | $49.50 |
| Side Mezzanine | $49.50 |
| Lower Balcony | $49.50 |
| Mid Orchestra II | $49.50 |
| Rear/Side Orchestra | $49.50 |
| Orchestra Corners | $49.50 |
| Middle Balcony | $35.00 |
| Upper Balcony | $35.00 |

Additional Links