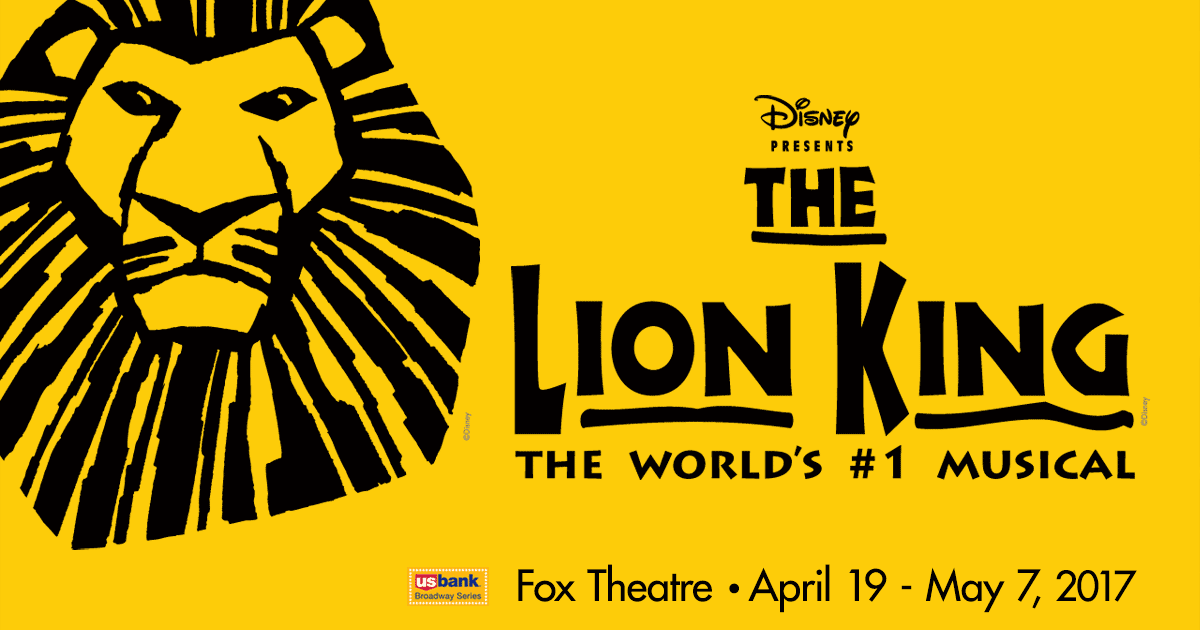 Disney Theatrical Productions and the Fabulous Fox Theatre announced today that tickets for the long-awaited return engagement of Disney's THE LION KING will go on sale to the public on Saturday, November 12 at 10:00 a.m.. St. Louis' most eagerly awaited return will once again leap onto the Fabulous Fox stage on Wednesday, April 19 for a limited engagement of 3 weeks through Sunday, May 7. The opening night is Thursday, April 20 at 7:30 p.m.
In St. Louis, THE LION KING will play Tuesdays through Fridays at 7:30 p.m., Saturdays at 2 p.m. & 7:30 p.m. and Sundays at 1:00 p.m. & 6:30 p.m.. There will also be a 1 p.m. matinee on Thursday, April 20. Premium Ticket Packages, which include a prime seat location, a commemorative souvenir program and an exclusive merchandise item, are also available. Beginning Saturday, November 12 tickets will be available at the Fabulous Fox Box Office, and online at www.metrotix.com. To charge tickets, call MetroTix at (314) 534-1111. Orders for groups of fifteen (15) or more may be placed by calling (314) 535-2900.
MetroTix is the only official retail ticket outlet for all performances at The Fabulous Fox Theatre. Ticket buyers who purchase tickets from a ticket broker or any third party should be aware that the Fabulous Fox is unable to reprint or replace lost or stolen tickets and is unable to contact patrons with information regarding time changes or other pertinent updates regarding the performance.
Fox Performing Arts Charitable Foundation will present Kids Night at the Fabulous Fox Tuesday. April 25. A free child's ticket will be offered with the purchase of an adult ticket at the Fox Theatre Box Office while supplies last; some restrictions apply. The evening will include pre-show activities in the Fox Theatre lobby. For more information about Kids' Night at the Fabulous Fox, please visit www.foxpacf.org.
The North American touring productions of THE LION KING have been seen by more than 17 million theatergoers and grossed over $1.2 billion to date. Having already played more than 70 cities across North America, THE LION KING now proudly makes its St. Louis return at the Fabulous Fox Theatre.
This show is available now as a priority offer for subscribers to the 6-show Season Ticket Package and Fox Broadway Club Members.
Groups of 15 or more can request tickets now.