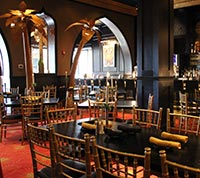 Make your group outing to the Fox for a Broadway show an event to remember! Theatre tickets combined with an elegant pre-show lunch or dinner in the exquisite surroundings of the Fabulous Fox set the stage for the perfect event.
A Group Dining experience includes priority tickets sales and pre-show dining in a private area with a one-of-a-kind show-themed menu prepared by our award-winning chefs.
Pre-Show Group Dining is available to Groups of 20 or more.
Price per person, in addition to the cost of your group tickets: $29.95
Pricing includes tax, gratuity, and non-alcoholic beverages.
See sample menus below for the current season. Items on the menu are subject to change based on inventory.
The process starts with an inquiry to our Group Services Department at 314-535-2900 or request more information.