Fox Club Membership
Thank you for taking time to learn more about Fox Club Membership.
We have 2 different memberships available for the Fox Club. The Fox Club Luxury Box Membership is for a full calendar year, and will include all public performances we have at the Fox theatre through the year. The Fox Broadway Club Membership is oriented around the U.S. Bank Broadway Series with the opportunity to purchase tickets to other events held at the Theatre.
Fox Club Luxury Box Seats
The Fox Club Luxury Box Membership is undoubtedly the city's finest corporate entertainment opportunity, with a variety of performances of Broadway shows, family events, comedy acts, dance, concerts and holiday attractions in a calendar year. Click here for our upcoming shows.
As a Fox Club Luxury Box Member, you will have full access to your luxury box seats and Fox Club reserved parking for all public performances. This includes up to 16 performances of Broadway show runs, as well as single and multiple performances.
Seating is located on the private Fox Club Level, which offers a private club entrance conveniently located on the Fox Club parking lot. Luxury Box Members have access to Concierge Service, the Fox Club Lounge, pre-show dining opportunities, in-box seat food & beverage service and private restrooms.
A Fox Club Luxury Box Membership can begin at any time, providing there is a Luxury Box available and is for one calendar year.
2016 – Eight Seat Luxury Box $62,250 / currently sold out and wait list is available
2016 – Four Seat Luxury Box $33,000 / currently one box is available
To request more information regarding Fox Club Luxury Box Membership information, contact Cindy Vargo, Vice President of Sales & Membership by email or phone at (314) 531-7700.
If you have questions regarding Fox Club tickets or dining for a particular show, please click here and we would be happy to assist you.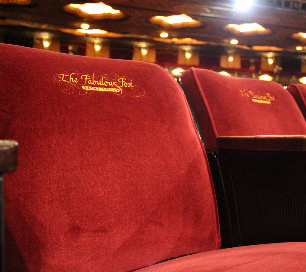 Fox Broadway Club Membership
The Fox Broadway Club membership is in conjunction with the 6-show U.S. Bank Broadway Series. Seating for this membership is located on the main Orchestra Level of the theatre in the first 5 rows of the center sections. Along with having access to the private Fox Club level of the theatre, Fox Broadway Club Members have fabulous amenities that include priority purchase opportunity for premium seating for Broadway Specials shows, VIP parking, private Fox Club entrance, access to excluse Fox Club Member only pre-show dining, Fox Club Lounge and Concierge Service.
The 2016-2017 U.S. Bank Broadway Season has just been announced! New sales for the Fox Broadway Club Membership will begin in mid to late May.
Pricing for the Fox Broadway Club Membership for the 2016-2017 season ranges from $761 - $1422 per seat per season. For a seating chart and pricing for the 2016-2017 season, click here.