Welcome to the 2022-2023 U. S. Bank Broadway Season renewal page
We are thrilled to have you back and can't wait to share our 40th Anniversary Season with you. To make this experience as seamless as possible, please read the steps below to prepare before you enter the renewal portal. Although most steps will happen within this portal, relocation requests will be entered into a separate link after you renew.
View WICKED PRICING | View 7-SHOW PACKAGE PRICING
---
The Renewal Process with Examples
1. If you are already registered, simply use your "Linked" email address (found at the very top of your invoice) and existing ticket password OR click "Link Your Account" and use your account number and PIN found at the top of your invoice to login to your account on the Fox Theatre's official ticket site – MetroTix.
If you click on the "Link Your Account" you will see the following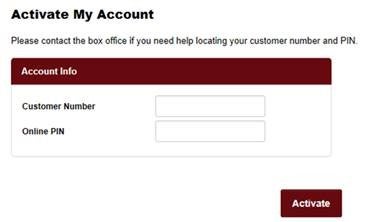 2. Once logged in, please review all of your personal details and make any necessary updates to your contact information. If your name has changed, please contact the Season Ticket Office. Then review your seat location, number of seats, performance date and time, and amount due for the 7 Show Package. The opportunity to add Wicked will come later.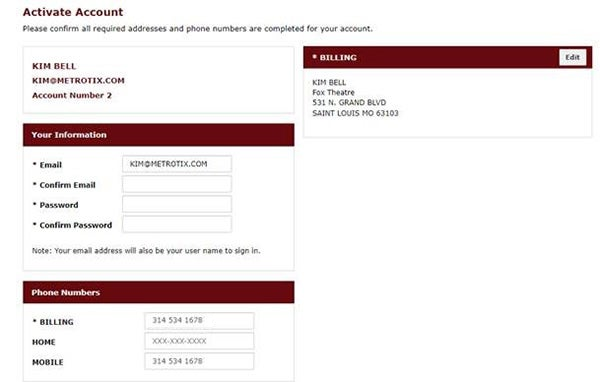 3. You will then be taken to a page where you will click on the application to see your renewal information.

4. If you elected to purchase the prepaid parking package in the Fox garage last season it will automatically load into your shopping cart at $105 for seven shows.
If you did not have the prepaid parking package previously and want to add it for the 2022-2023 season, select quantity (1) and add it to your shopping basket. You will only be offered the parking package that matches your season ticket packages (Unfortunately our pre-paid parking is not available for the Thursday matinee performance.)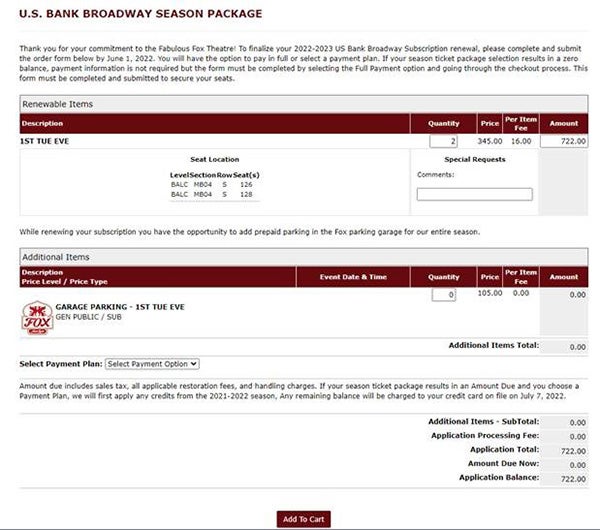 5. Ticket delivery and payment plan options: You may choose to have your tickets delivered via email either to your mobile device or as print-your-own tickets. If you skip this step you will be automatically signed up for mobile tickets.
Here you may also choose to either pay in full or select the payment plan:
If you select to pay in two installments:
• 50% will be due at the time of renewal and 50% will be automatically charged to your credit card on file on or around July 7, 2022.
• If you have a credit that is being carried over and noted on your invoice, it will be applied first toward the 50% down. If there is still a remaining credit, it will be applied to your final payment. Any balance due will be automatically charged to your credit card on file on or around July 7, 2022.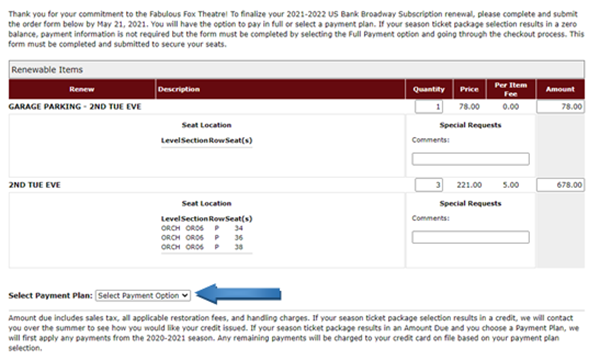 6. Click the "Place Your Order" button to complete your renewal. Special note: If at this step you have a $0 balance due, it is still necessary to click the "Add to Cart" button and you will be prompted to put in your credit card number in the shopping cart to complete your renewal. You will receive a confirmation email. Tickets will be delivered later this summer, date still to be determined.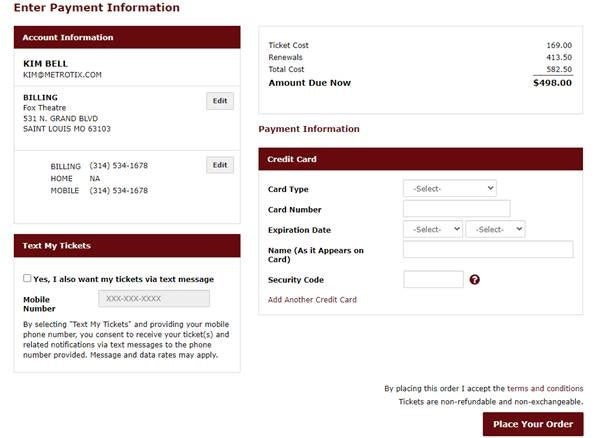 7. After you Place Your Order for your subscription renewal, there will be a popup giving you the option to add WICKED. Prepare by reviewing the WICKED information here. We cannot guarantee the same seats in your season ticket package for WICKED but with 4 weeks of performances, you have a wide range of options. Use this page to choose your performance date and time, seating location and price. Make a note of this selection so you will be able to enter it when you get to this step. You may purchase up to 10 tickets.
If you do not wish to add Wicked, click the "No Thanks" button.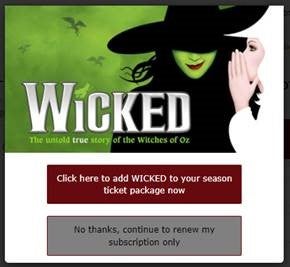 8. You will be able to select your WICKED performance, seating location, whether to add parking for WICKED or not, whether to do the 50% billing plan for WICKED or pay in full, and select your delivery method for WICKED at this point. You will then check out again and click Place Your Order to finalize your purchase.
9. If you would like to request a relocation, return to this page after you renew.
---
Relocations
In order to request a seat change, it is necessary to first renew your current seats. Relocation requests are evaluated based on whether or not the other Season Ticket Holders renew. Seat relocations will take place after completion of the renewal process and may take several weeks. Completing all of the detail in this form will give us the information we need to determine if we can fulfill your request.
RELOCATION REQUEST

For assistance contact the Season Ticket Office at 314-535-1700* (10am-5pm, Mon.-Fri.) or SubRenew@FoxSTL.com
*Please note: the phone lines and our email inbox will be extremely busy during renewals. We promise we will get to your renewal requests as soon as possible!
---
SEASON TICKET PACKAGE OPTIONS – SEVEN OR EIGHT SHOWS
The seven/eight-show season ticket package will include:
Please note the following schedule changes:
•
First Tuesday
Season Tickets for
FROZEN
will be issued for
Sunday, November 13 at 6:30pm
due to the Wednesday opening.
•
Thursday Matinee
Season Tickets will be issued for the second Thursday for all shows except
FROZEN
when they will be in the
first week
.
SEASON SPECIALS
Later this summer, Season Ticket Holders will have the priority purchase opportunity for these specials and for additional tickets to the shows listed above. These specials can also be used for the season ticket SWAP ONE privilege.
FOR MORE INFORMATION
Including show descriptions and all season ticket benefits such as EXCHANGING and SWAP ONE, please see the Season Ticket page.
We look forward to celebrating our 40th Year of Broadway with you at the Fabulous Fox Theatre.