Fabulous Fox GROUP Services FREQUENTLY ASKED QUESTIONS
HOW MANY PEOPLE DO I NEED TO MAKE A GROUP?
Group minimums vary by show, but generally at least 10 people are needed to be eligible for group discounts and benefits.
HOW DO I ORDER GROUP TICKETS?
There are TWO fabulous ways to book your group:
BUY NOW - For Groups of 10-20. You can purchase in real time and take advantage of our group savings and reduced handling fee. This option is perfect for friends and family.
CALL OR EMAIL - Groups Services at 314-535-2900 (Monday-Friday 9am-5pm) or Groups@FoxSTL.com to take advantage of group savings, reduced handling fees, and payment plans. This option is for Traditional Group Leaders and Student Groups.
HOW DO I PAY FOR MY ORDER?
We accept all major credit cards and business checks (no personal checks, please). We ask that a Group Leader is designated to coordinate the group and make a consolidated payment.
DO WE HAVE TO BUY TICKETS IN THE SAME PRICE LEVEL?
One of the benefits of group tickets is that you may sit in different price levels/seating locations and receive the discounted group pricing.
WHAT IF I NEED TO CANCEL MY GROUP?
Prior to final payment, you are able to adjust your group count. Ticket options will vary depending on performance. Please contact your Groups Service Representative if you need to make any adjustments to your order.
HOW AND WHEN WILL I RECEIVE MY TICKETS?
Tickets are delivered as soon as they are paid in full. Flex pay tickets are delivered once the final payment is made. We offer two methods of ticket delivery:

PRINT-YOUR-OWN Delivery
Print-Your-Own tickets are issued via email from online@metrotix.com with a link to download and print your tickets.
Please download and print your tickets before you arrive to prevent delays entering the theatre.
Print ONE ticket per sheet on standard 8.5x11 white paper. Your tickets may be printed in either black & white or color ink. Please be sure the printed barcode on each ticket is not distorted.
Print-Your-Own tickets are not formatted to scan from your mobile device, so please print your tickets.
MOBILE TICKET Delivery
Mobile tickets are issued via email from online@metrotix.com with a link to download your tickets to your mobile wallet.
Please download and save your tickets before you arrive to prevent delays entering the venue. Wi-Fi or data network access is necessary to open your tickets for the first time.
Do not print your tickets. Mobile tickets will be scanned directly from your smartphone.
Please be sure your screen brightness is set to full strength BEFORE you arrive at the entrance. If your mobile screen is cracked or you have a privacy screen protector, your tickets may not scan correctly.
CAN YOU ACCOMMODATE GUESTS WITH SPECIAL NEEDS?
Yes, we are able to accommodate guests with limited mobility, hearing and visual impairments, or those who require wheelchair assistance. Let us know of any special considerations when placing your order. ADA Information
WHERE WOULD OUR GROUP PARK?
Arriving by Car
Traffic backs up on Grand Blvd quickly. We encourage you to allow extra time and use alternative routes if possible.

Please visit the driving directions and parking information page.
Call Fox Group Services for suggestions or to purchase pre-paid parking in the Fox Theatre Parking Garage on Washington Blvd ($18 per car).

Arriving by Bus
The Group Services team can be at your performance to assist with Bus arrivals. Let us know in advance; we'll be happy to do a walk on welcome!

Bus parking is street level. Below is a map showing streets that are likely to have available space.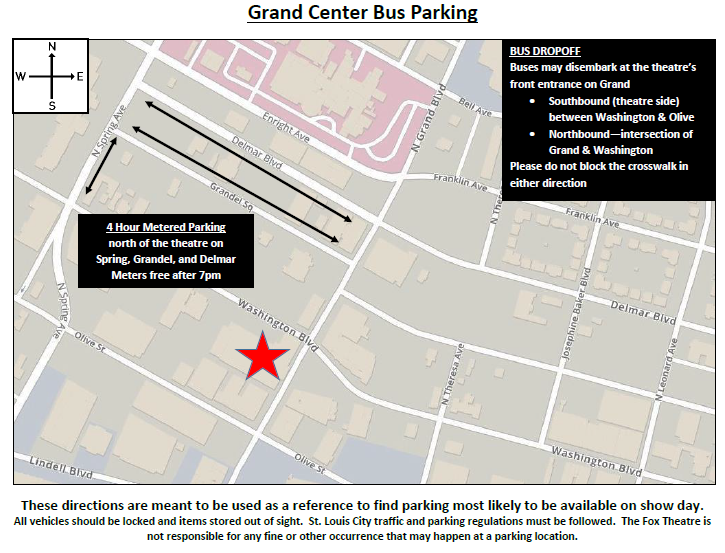 CAN WE ADD A DAY-OF-SHOW TOUR TO OUR GROUP ORDER?
Enjoy a 90-minute walking tour of the majestic Fabulous Fox Theatre in St. Louis before your group attends a performance.
Groups of 15+ can book a private tour in conjunction with their group tickets.
For Matinee performances, tours can be scheduled at 10:00 AM or 10:30 AM.
For Evening performances, tours can be scheduled between 10:00 AM - 12:00 noon.
Private Tours cannot be reserved nor conducted on Sundays, or on an opening day or night of any of the Broadway shows.
Pricing:
Seniors/Youth/Students on weekdays: $5 per person / Saturdays: $7 per person
Adults on weekdays: $6 per person / Saturdays: $8 per person
Kids 2 yrs. of age and under are complimentary.
CAN WE ADD DINING TO OUR GROUP ORDER?
GROUP DINING opportunities can be combined with your group theatre tickets for lunch or dinner and for groups of 20 or more.