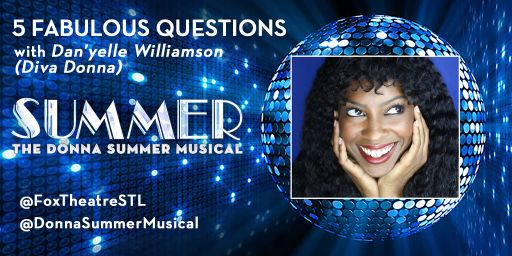 My name is Dan'yelle Williamson and I have the honor of portraying Diva Donna in Summer: The Donna Summer Musical's First National Tour.
This my third time to St. Louis. Stages here is my second theatre home. I worked on Sister Act as Deloris Van Cartier/Sister Mary Clarence and appeared in Mamma Mia as Rosie. Michael Hamilton and Jack Lane are family. I'm thrilled to be back!
1.) The first show I saw on Broadway was "Brooklyn" with Eden Espinosa, Ramona Keller, and Karen Olivio. I remember being reaffirmed with the idea of performing on Broadway, actively manifesting getting there, and knowing that this was where I belonged. At the time, I thought it was the best show I'd ever seen. The performances were solid and the storytelling was beautifully done.
2.) The moment I recognized that I was purposed for this life, was when I booked Wicked in Chicago. But it wasn't until I was backstage at places one night pre-curtain that I KNEW I was made for the stage.
3.) The biggest challenge that I face with this role is running in four inch heels. I have a lot of quick cross over moments in this show. So, sometimes balancing physically by keeping my body strong is a challenge within the production. On the flip side, when I am onstage, I get to tell the story of the Disco Queen herself, Donna Summer!
4.) I would tell anyone pursuing Theatre professionally to never ever give up, know your worth, do the work, and trust the process. This industry is a unique navigation.
5.) I really look forward to reconnecting with my St. Louis family and friends! It's also going to be cool playing a new theatre space here. Happy to be back!
. . .
See Summer: The Donna Summer Musical at the Fabulous Fox January 15-26, 2020.
Dan'Yelle Williamson (Diva Donna/Mary Gaines), a Broadway veteran with a passion for storytelling, is delighted to share the legacy that is DONNA SUMMER all over the US! Last seen in the American Premiere of Life After and a Holiday Celebration Concert in Tokyo, Japan. Broadway: Memphis, Scandalous and Rocky. Additional credits: The Hunchback of Notre Dame, Sister Act, Disgraced, Mamma Mia!, The Lion King (National Tour) and Wicked (Chicago). Film soundtrack: 12 Years a Slave. Agent: DGRW INC. IG: @dubbzlove danyellewilliamson.com.