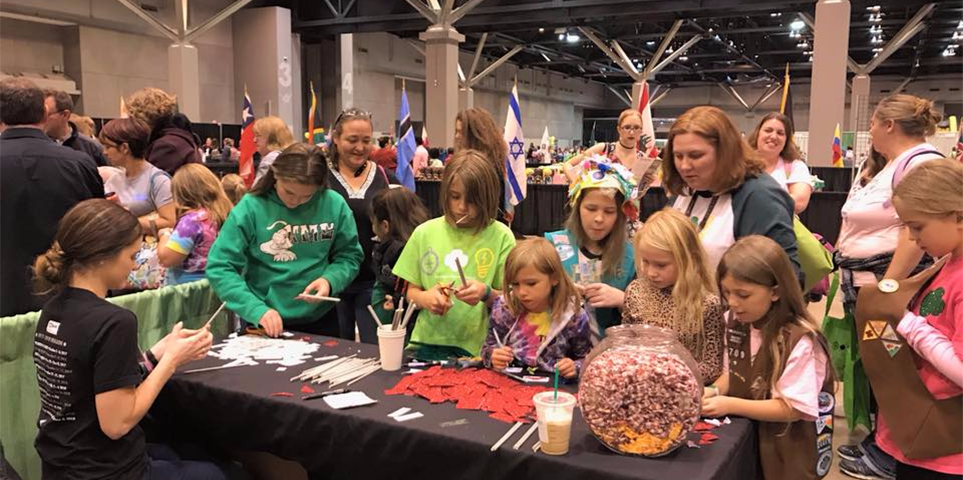 When I was asked to spearhead the Shades of Green event for the Girl Scouts of Eastern Missouri, I thought it was going to be similar to the other girl scout events that I had participated in. I would put together a fun activity, gather the needed supplies and take it to the event location to set up at our designated area.
However, for the Shades of Green event, I was told that 800 – 1,000 Girls Scouts and or adults could potentially come by our booth throughout the day. I was stunned. I had never participated in an event this big. How do I plan an activity for 800 – 1,000 girls? It needed to be an activity that was fun, would keep the girls interested and keep the Fabulous Fox's image in mind?
So, I began researching, first about the Shades of Green event itself. I found out that it is one of the largest events that the Girl Scouts have and it only happens every five years. The event allows girls to immerse themselves in activities that explore new passions, build leadership abilities and expand their confidence. With that in mind, I started researching different activities that the girls could participate in that could relate back to the Fox and an upcoming show. I decided on a "wicked witch" bookmark craft would be perfect for the event. It tied back to the Wizard of Oz that is coming in February and promoted reading, a win-win situation!
It was the day of the event and I was running late. I was feeling stressed and did not know what to expect for the day ahead of me. I arrived at the America's Center and began setting up our booth. A few minutes before the event was about to start I hear chanting and cheering coming from outside the doors and within a few seconds, parents and girls started flowing in.
Smiles that seemed to be contagious were on every face at our booth, including mine. Seeing the excitement beam from the girls was so magnificent. I was a cheerleader, guide and a mentor helping the girls with their bookmark craft. Some girls were making bookmarks of their own, others for their teachers, and some helped their younger siblings who just couldn't get the hang of it.
Each bookmark was unique and catered to the individuality of each Girl Scout. It was absolutely sensational to see. I even over heard one Girl Scout talking to a younger Girl Scout about how great it was to be a member and how she should stick with it because she could get scholarships to college. College, I thought, wow. When I was their age I wasn't even thinking about college. I, personally, was never a Girl Scout but after getting to experience this event first hand I see how significant this organization can be to young women. At this crucial time in their lives, I was able to make a difference and create lasting memories.
I was able to bond with the parents as well. Hearing stories about the first time they came to the Fabulous Fox Theatre, their favorite Broadway show, or the show they are most looking forward to this season. You see, when you work at such a fabulous place, you don't always realize the impact that it has on others. Having the opportunity to interact with the community was an eye-opening experience to just how awesome and rewarding my job really is.
At the end of the day, I was absolutely exhausted, but more than that I was filled with so much joy. I'm not sure who had more fun, the Girl Scouts or myself. The Fox booth was an absolute hit! Seeing the impact and memories made first hand was unimaginable. Even though the event was only for a day, I made memories that I will cherish for life. For one day I felt like a Girl Scout of Eastern Missouri.