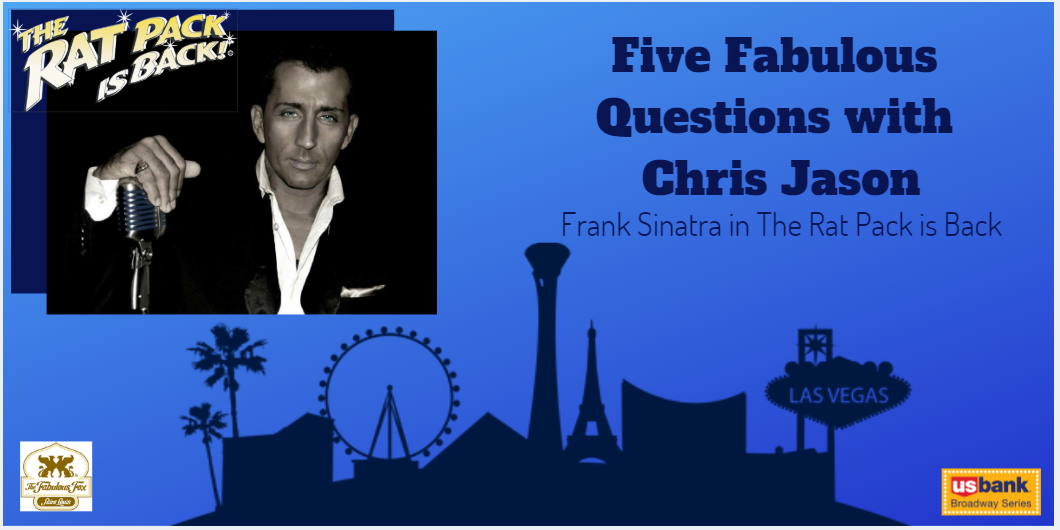 Have you visited St. Louis before (for any reason)?
No

Have you performed in St. Louis before? If yes, where and what show were you in?
No, not that I can remember
1. What was the first show you saw on Broadway?
Cats would be the first actual show I saw on Broadway.

2. When did you know you wanted to perform for a living?
It was around the age of 6. I grew up were all that was played was music between Sinatra, Dean Martin, Engelbert Humperdinck, Paul Anka, Bobby Darin, this list goes on. But my uncle David was a tribute to Engelbert and performed in Atlantic City, Vegas etc. and I basically bitten by the the show biz bug instantly. I stated singing Engelbert songs and Sinatra right away and had my first pro gig at the age of 14 in front of 3000 people. I have performing Sinatra now for over 20 yrs. and have been blessed to be able to keep the music of the Sinatra song book alive.

3. What is the biggest challenge performing in this show?
The biggest challenge I would say would be to NOT have a marvelous time on stage. It would be virtually impossible!

4. What advice do you have for aspiring performers?
You can only perfect whatever it is you do by constantly listening, paying attention and most of all putting your heart and soul into your craft. It has to be a true love and connection with whatever it may be that someone does. The audience is your lifeline in this biz, they can always notice when a performer loves what they do.

5. What are you most looking forward to seeing in St. Louis?
Honestly I don't think we will have time, but I would adore it to see the Keil Opra House and stand on that stage.


It was where Frank, Dean and Sammy performed a benefit concert for a half-way for convicts called Dismas House and it was recorded on June 20th 1965, it was also was one of the only rat pack concerts videotaped and broadcasted.


It was hosted by Johnny Carson and the concert was backed by the Count Basie Orchestra with Quincy Jones orchestrating as well as George Rhodes. That would be a dream come true seeing that it is one of my favorite concerts which I have watched over and over again at least 1000 times. LOL