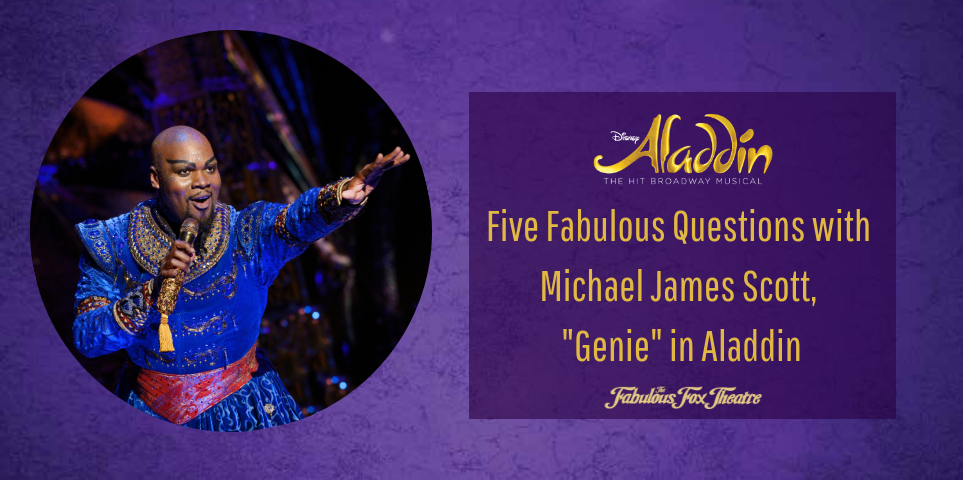 Have you visited St. Louis before (for any reason)?
St. Louis is like a second home to me, having graduated from Webster University's Conservatory of Theatre Arts program with a BFA in Musical Theatre and having worked several times playing roles at The MUNY!!
Have you performed in St. Louis before? If yes, where and what show were you in?
I have performed numerous times in St. Louis…
in College at Webster I was in As You Like It, Blood Wedding, You're a Good Man Charlie Brown, 42nd St., and Pippin
at The MUNY I played Donkey in Shrek the musical and Mereb in Aida
1. What was the first show you saw on Broadway?
The first Broadway show I saw was Beauty and the Beast… (which coincidentally was the in which I had my Broadway debut).
2. When did you know you wanted to perform for a living?
My mom said I sang before I spoke, so as long as I can remember I've wanted to be a performer!
3. What is the biggest challenge performing in this show?
The biggest challenge for me as Genie has been the pacing of the show and really figuring that out, but to also trust the preparation that I've done and to not get ahead of the material but rather you guide it!
4. What advice do you have for aspiring performers?
It may sound cliché but to actually believe in the 'THING' you have… that the 'THING' you have makes you special from the person next to you because you are YOU and they don't have YOUR 'THING.'
5. What are you most looking forward to seeing in St. Louis?
I'm most looking forward to going back to my favorite restaurants and walking around in Forest Park and hanging down in the gorgeous Central West End area!!