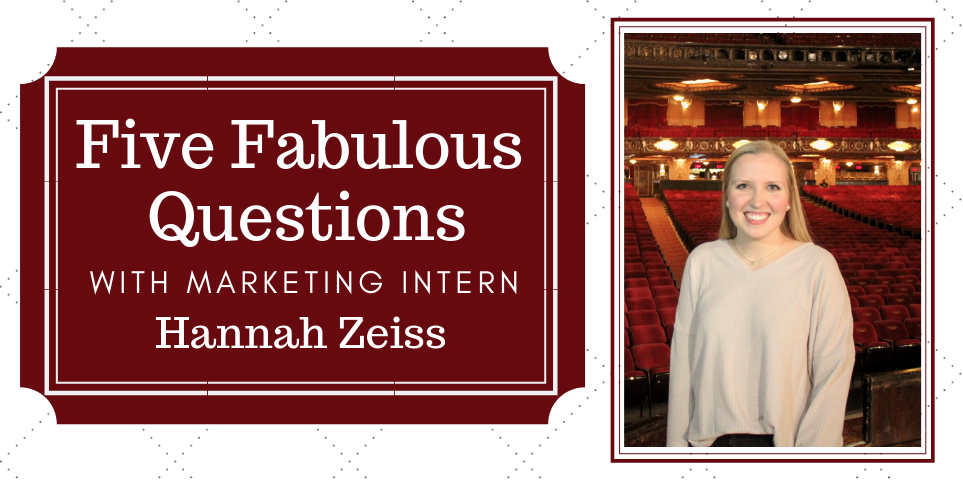 Hi! My name is Hannah Zeiss and I'm very excited to be the spring marketing intern here at the Fabulous Fox! I'm a junior at Saint Louis University double majoring in Marketing and Theatre Management. I am also involved in Greek life and the University Theatre. Along with working at the Fox, I am currently the Marketing and Administrative Associate at The Kranzberg Arts Foundation. This past summer, I worked at The Muny as an accounting intern and usher.
1. Why are you excited about becoming a Fox Marketing Intern?
The Fox was actually one of the reasons that I chose to come to SLU. I thought it would be so cool to live right down the street from a theatre and I definitely ended up being right. I've also been very lucky to have grown up coming to the Fox. I know first-hand how many memories this theatre holds for so many people and to get to be even a small part of that will be an experience I'm sure I'll never forget.

2. Tell us about the first theatrical performance you saw.
The first professional show I ever saw was Joseph and the Amazing Technicolor Dream Coat here at the Fox. I remember we bought the DVD version of the show and I watched it all of the time. Just a few weeks after that I came back and saw Wicked – needless to say, I was hooked. I even brought the CD into my fourth grade classroom for show and tell.

3. If you could see any performance at the Fox, what would you choose?
I have an embarrassingly long list of shows that I would love to see professionally: Next to Normal, Memphis, Spring Awakening, In the Heights, The Book of Mormon, West Side Story, Hamilton…just to name a few. If I could only pick one it would have to be Next to Normal. I love that it's a musical that has so much music. The original set was like a house that had a second and third floor which I still think is so cool. The show also has very few characters but they are all utilized so well to still be able to effectively tell the story.

4. What show are you most excited about this season at the Fox? Why?
I am most excited for Waitress! I was able to see it in New York last spring with Katherine McPhee and was crying before it even started. I especially love the way the show uses music to tell its story and the pie adds such a unique element. Jenna, the main character, is such a great portrayal of a strong woman who overcomes adversities and goes after her dreams so that her child can have a better life than she did. I think the story will really resonate with the audience here in St. Louis.

5. What do you think is the most Fabulous thing about St. Louis?
The most Fabulous thing about St. Louis is the community support for the arts, not only here in Grand Center but all throughout the city. There's always a show or a concert or a gallery opening somewhere – it's hard to keep up with. The best part about it though is how accessible it all is. Most theatre companies give really good student discounts and a lot of art openings are even free.