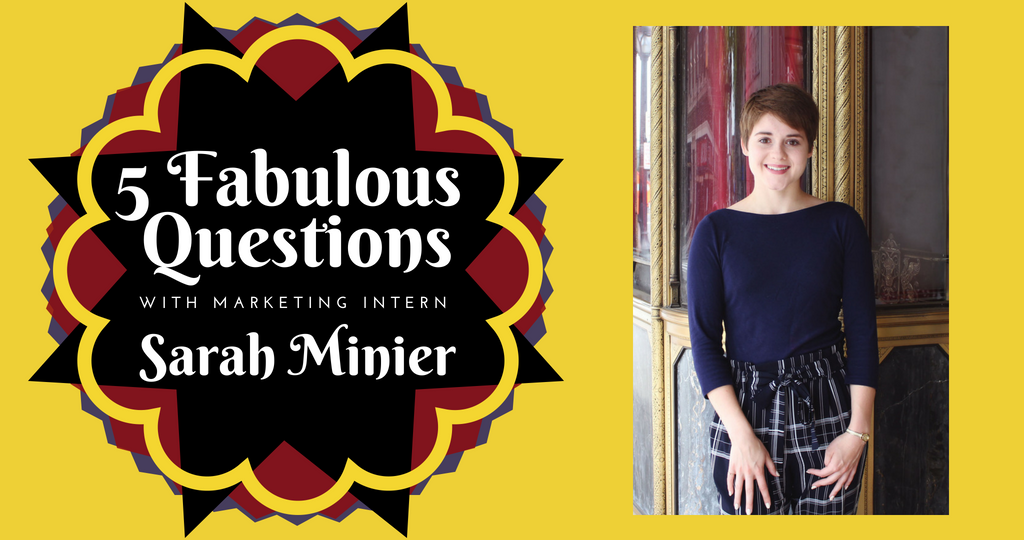 Hello! My name is Sarah Minier, and I am currently a student at Southern Illinois University Edwardsville. I am majoring in Mass Communication with an emphasis in Media Advertising and minoring in Fine Art with an emphasis in both Photography and Graphic Design. I will be graduating in May of 2019, and cannot wait to see what my senior year has in store for me! In my free time I enjoy taking on freelance photography work, making rings out of antique spoons, hiking, traveling and playing my baby grand piano. Along with interning at the Fabulous Fox, I am also the Marketing and Communications Intern for the Gateway Arch. I started in January and have been assisting their marketing department in rebranding as well as with events leading up to the highly anticipated Grand Opening of the new museum and west entrance scheduled for July 3. Last summer I interned for Socially Jen + Co, a digital marketing and communication agency in Saint Louis. There I was able to provide product photography and manage social media calendars for their clients.
Why are you excited about becoming a Fox Marketing intern?
I can remember the very first time I attended a show at the Fabulous Fox. It was in 2007 and my family had just moved to the St. Louis area from a small town in South Dakota. My mom surprised us all with tickets to see the Lion King. It was nothing short of a truly magical experience. When I saw that the Fabulous Fox was seeking applicants for a marketing internship, I did not hesitate in sending in my resume. I just knew I wanted to be a part of the magic I experienced as a child!

Tell us about the first theatrical performance you saw?​
The first theatrical performance I ever experienced was The Wizard of Oz as performed by my hometown's community high school. My sweet great grandmother Adelaide had volunteered to make all of the costumes like she always did, and she generously brought me along to see the final production. I was about 4 years old and to this day I can still feel my heart race any time I think about the flying monkeys that came running down the aisles. It was attending shows with my great grandma that made me fall in love with visiting the theatre.

If you could see any performance at the Fox, what would you choose?​
I have always wanted to see Hamilton. When it came to the Fox this spring and tickets sold out so quickly, I was heartbroken. Everyone I talked to that was able to see the show said that it was phenomenal, inspiring and not one they would soon forget. When it comes back next season, you better believe I'll have tickets!

What show are you most excited about this season at the Fox? Why?
I am extremely excited for Aladdin to grace the elegant Fabulous Fox stage. Once again, I am taken back to childhood memories. I can remember spinning around my living room and singing "A Whole New World" word for word as a little girl.

What do you think is the most fabulous thing about St. Louis?
I would say the most fabulous thing about St. Louis would be its rich history. A few of my favorite places to experience the antiquity STL has to offer would be the Missouri Botanical Garden, Gateway Arch National Park, Grant's Farm and you guessed it – the Fabulous Fox! You can find bits and pieces of the past almost anywhere you explore in this beautiful city.