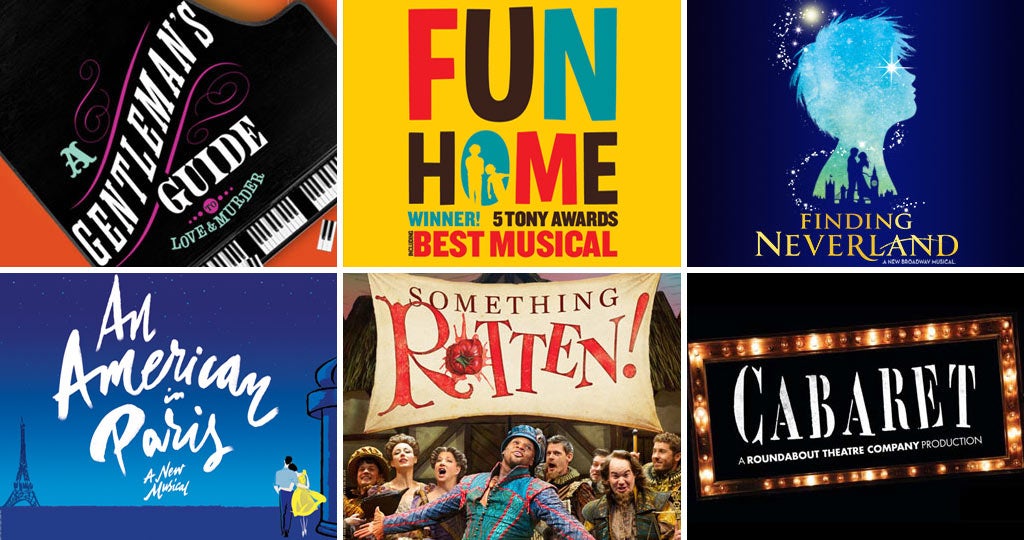 We're thrilled to announce an extraordinary season of Tony Award®-winning Best Musicals in the 2016–2017 U.S. Bank Broadway Series. Join us for a fabulous series that features some of the newest shows on Broadway, including FUN HOME, Fox Theatricals' own critically-acclaimed 2015 Tony Award–winning Best Musical. In addition to FUN HOME the six-show season ticket package includes A GENTLEMAN'S GUIDE TO LOVE & MURDER, winner of the 2014 Tony Award for Best Musical. The magical FINDING NEVERLAND will visit the Fox during the December holidays; the captivating AN AMERICAN IN PARIS kicks off 2017; and the hilarious smash SOMETHING ROTTEN! visits in February. Closing out the season is Roundabout Theatre Company's production of the acclaimed masterpiece CABARET. Seven specials are in the lineup, four of which received the Best Musical Tony Award, including Disney's THE LION KING returning for a three-week engagement.
A GENTLEMAN'S GUIDE TO LOVE & MURDER | September 13–25, 2016
Getting away with murder can be so much fun… and there's no better proof than the knock-'em-dead hit show that's earned unanimous raves and won the 2014 Tony Award® for Best Musical—A GENTLEMAN'S GUIDE TO LOVE & MURDER! As one most gentlemanly NPR critic put it, "I've never laughed so hard at a Broadway musical!" GENTLEMAN'S GUIDE tells the story of Monty, an heir to a family fortune who sets out to jump the line of succession by - you guessed it - eliminating the eight relatives (all played by one fearless man) who stand in his way. All the while, Monty has to juggle his mistress, his fiancée and the constant threat of landing behind bars! Of course, it will all be worth it if he can slay his way to his inheritance… and be done in time for tea. The Hollywood Reporter raves, "GENTLEMAN'S GUIDE restores our faith in musical comedy."
FUN HOME | November 15–27, 2016
It is with tremendous pride that we bring Fox Theatricals' Tony Award®-winning production of FUN HOME to the Fabulous Fox. Every once in a while a Broadway musical comes along that surprises, moves and excites audiences in ways only a truly landmark musical can. The "groundbreaking," "life-affirming" and "exquisite" new musical FUN HOME was the event of the 2015 Broadway season, receiving rave reviews from critics and audiences alike, winning five 2015 Tony Awards including Best Musical and making history along the way. Based on Alison Bechdel's best-selling graphic memoir, FUN HOME introduces us to Alison at three different ages as she explores and unravels the many mysteries of her childhood. A refreshingly honest musical about seeing your parents through grown-up eyes, "FUN HOME is extraordinary, a rare beauty that pumps fresh air into Broadway!" (The New York Times).
FINDING NEVERLAND | December 6–18, 2016
Broadway's biggest new hit and the winner of Broadway.com's Audience Choice Award for Best Musical, this breathtaking smash "captures the kid-at-heart," says TIME Magazine. Vogue cheers, "It's a must-see you'll remember for years to come!" Directed by visionary Tony®-winner Diane Paulus and based on the critically-acclaimed Academy Award® winning film starring Johnny Depp, FINDING NEVERLAND tells the incredible story behind one of the world's most beloved characters: Peter Pan. Playwright J.M. Barrie struggles to find inspiration until he meets four young brothers and their beautiful widowed mother. Spellbound by the boys' enchanting make-believe adventures, he sets out to write a play that will astound London theatergoers. With a little bit of pixie dust and a lot of faith, Barrie takes this monumental leap, leaving his old world behind for Neverland, where nothing is impossible and the wonder of childhood lasts forever. The magic of Barrie's classic tale springs spectacularly to life in this heartwarming theatrical event. FINDING NEVERLAND is "far and away the best musical of the year!" (NPR).
AN AMERICAN IN PARIS | January 17–29, 2017
AN AMERICAN IN PARIS is the new Tony Award®-winning musical about an American soldier, a mysterious French girl, and an indomitable European city, each yearning for a new beginning in the aftermath of war. Acclaimed director/choreographer and 2015 Tony Award®-winner Christopher Wheeldon brings the magic and romance of Paris into perfect harmony with unforgettable songs from George and Ira Gershwin in the show that earned more awards than any other musical in the 2015 season! The New York Times raves, "AN AMERICAN IN PARIS is a triumph! Pure joy!" and the Wall Street Journal declares, "Once you've seen it, you'll find it hard to settle for less ever again." Don't miss this stunning Broadway hit when it arrives in St. Louis on its first national tour!
SOMETHING ROTTEN! | February 7–19, 2017
SOMETHING ROTTEN! is "Broadway's big, fat hit!" (New York Post). Set in 1595, this hilarious smash tells the story of Nick and Nigel Bottom, two brothers who are desperate to write a hit play. When a local soothsayer foretells that the future of theatre involves singing, dancing and acting at the same time, Nick and Nigel set out to write the world's very first Musical. With its heart on its ruffled sleeve and sequins in its soul, SOMETHING ROTTEN! is Ingenious! Outrageous! Irresistible!" (Variety). New York Magazine called it "The Producers +
The Book of Mormon x The Drowsy Chaperone. Squared!"
Roundabout Theatre Company's CABARET | March 7–19, 2017
Direct from Broadway, the acclaimed masterpiece returns to St. Louis! As part of its 50th Anniversary Season, the critically acclaimed and award-winning Roundabout Theatre Company is proud to present Sam Mendes (Skyfall, American Beauty) and Rob Marshall's (Into the Woods and Chicago, the films) Tony Award®-winning production of CABARET. Come hear some of the most memorable songs in theatre history, including "Cabaret," "Willkommen" and "Maybe This Time." Leave your troubles outside – life is beautiful at CABARET, John Kander, Fred Ebb and Joe Masteroff's Tony-winning (1967 for Best Musical and 1998 for Best Revival) about following your heart while the world loses its way.
Series Specials
Seven specials for the 2016–2017 Season will be offered to season ticket-holders subscribers for priority seating before their public on-sale dates. The captivating and breathtakingly romantic ONCE (2012 Tony Award® for Best Musical), returns to the Fox September 30–October 2. One of the world's best-loved family musicals ANNIE (1977 Tony Award for Best Musical) hits the stage December 2–4. Featuring more than 40 classic hits such as "My Girl" and "Ain't No Mountain High Enough", the true American dream story of Motown founder Barry Gordy MOTOWN THE MUSICAL returns March 21–26. THE ILLUSIONISTSTM–Live From BroadwayTM will make its St. Louis debut March 31-April 2.
Experience the phenomenon of Disney's THE LION KING April 19-May 7. Winner of six 1998 Tony Awards® including Best Musical, this landmark musical event brings together one of the most imaginative creative teams on Broadway. THE LION KING also features some of Broadway's most recognizable music, crafted by Tony Award-winning artists Elton John and Tim Rice. "There is simply nothing else like it" proclaims the New York Times and the 432,000 people who experienced one of its three previous Fox engagements will surely agree.
Have the time of your life when DIRTY DANCING–The Classic Story On Stage returns May 12-14 with its heart-pounding music and sensational dancing. As a season finale, the 1996 Pulitzer Prize and Tony Award®-winning Best Musical RENT stops at the Fox May 19-21 during its 20th anniversary tour.
New six-show season ticket packages will go on sale May 15. Current U.S. Bank Broadway season subscribers will receive their renewal information beginning the week of March 28. On-sale dates for individual shows will be announced later. For more information, please call the Fox Subscription office at 314-535-1700. Groups of 15 or more should call 314-535-2900 for special rates and reservations. The Broadway Series at the Fabulous Fox Theatre is presented by U.S. Bank.
We hope you enjoy this fabulous season. With seven shows featured that can claim the Tony Award for Best Musical honor, the 2016-2017 season offers a perfect choice for everyone! Let us know in the comments which show you are excited to see at the Fox!
2016 – 2017 U.S. Bank Broadway Series Shows and Specials:
(The Six Season Ticket shows are in bold)
A GENTLEMAN'S GUIDE TO LOVE AND MURDER * September 13–25, 2016
ONCE * September 30–October 2, 2016
FUN HOME * November 15–27, 2016
ANNIE * December 2–4, 2016
FINDING NEVERLAND * December 6–18, 2016
AN AMERICAN IN PARIS * January 17–29, 2017
SOMETHING ROTTEN! * February 7–19, 2017
Roundabout Theatre Company's CABARET * March 7–19, 2017
MOTOWN THE MUSICAL * March 21–26, 2017
THE ILLUSIONISTS * March 31–April 2, 2017
Disney's THE LION KING * April 19–May 7, 2017
DIRTY DANCING-the Classic Story On Stage * May 12–14, 2017
RENT * May 19–21, 2017