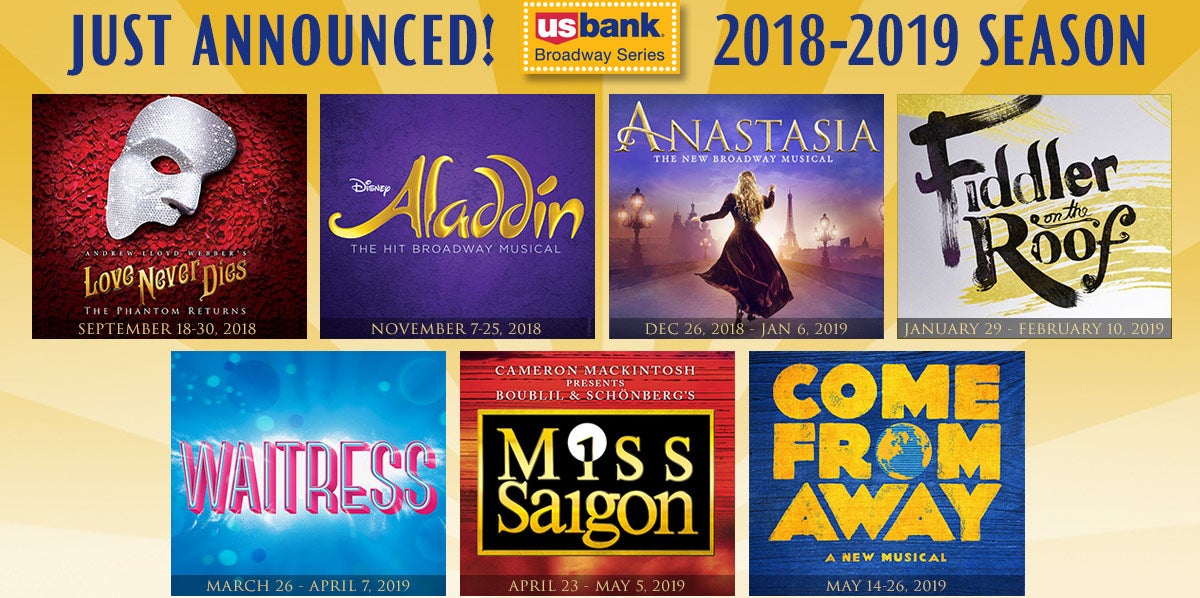 The seven-show season ticket package opens with LOVE NEVER DIES, Andrew Lloyd Webber's spellbinding sequel to The Phantom of the Opera. Discover a whole new world with the breathtaking magic of Disney's ALADDIN in November. ANASTASIA brings an epic adventure to the Fox stage for the holidays, followed by a fresh production of the theatrical masterpiece FIDDLER ON THE ROOF to kick off 2019. With original music and lyrics by six-time Grammy® nominee Sara Bareilles, WAITRESS will serve up a delightful treat for spring. The acclaimed new production of the legendary MISS SAIGON will have you falling in love with this stunning spectacle all over again. The remarkable new musical COME FROM AWAY will close out the season in May.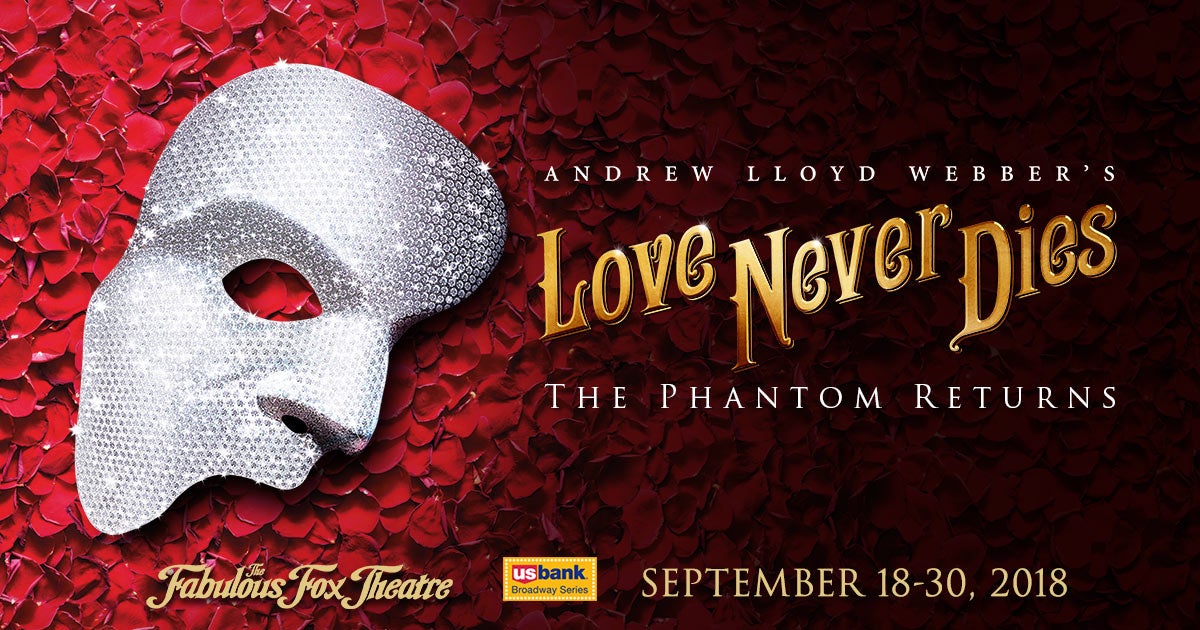 LOVE NEVER DIES | September 18 – 30, 2018
The ultimate love story continues in LOVE NEVER DIES, Andrew Lloyd Webber's spellbinding sequel to The Phantom of the Opera. This dazzling new production is set 10 years later with The Phantom now in New York where he lives amongst the joy rides and freak shows on Coney Island. Still yearning for his one true love and musical protégée Christine Daae, he lures her, Raoul and their son Gustave to the Island, setting up a thrilling rollercoaster ride of intrigue, obsession and romance. Audiences will be seduced by the beautiful, sometimes magical and poetic, sometimes joyful, and occasionally melancholic score as this magnificent continuation of one of the world's greatest love stories as it makes its St. Louis premiere.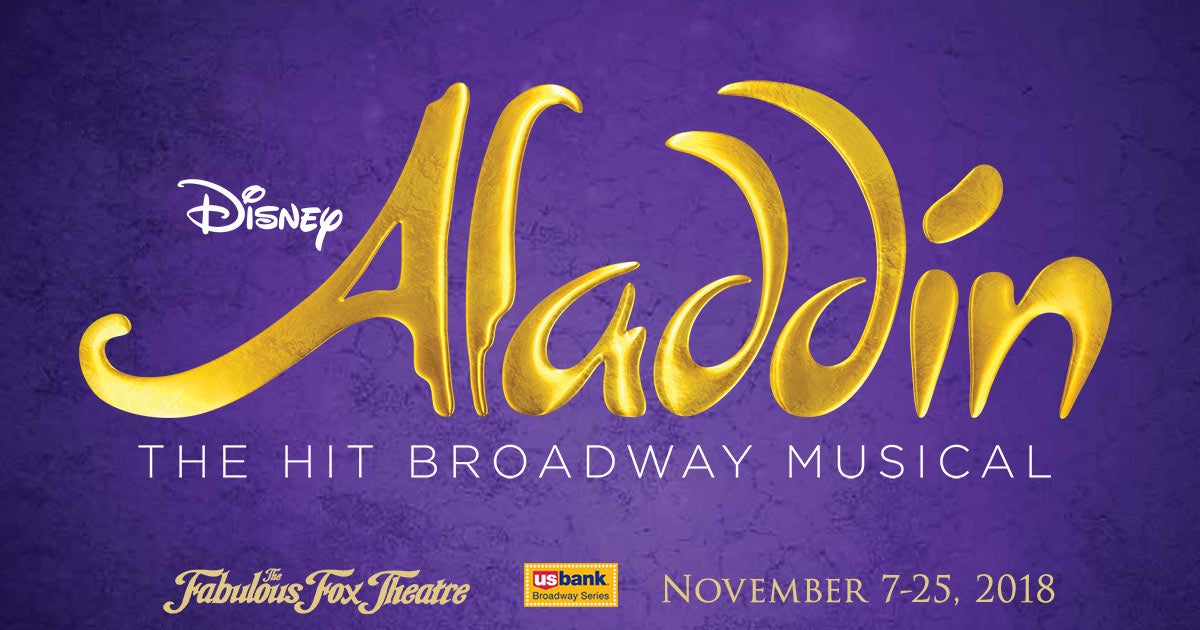 Discover a whole new world at Disney's ALADDIN, the hit Broadway musical. From the producer of The Lion King comes the timeless story of ALADDIN, a thrilling new production filled with unforgettable beauty, magic, comedy and breathtaking spectacle. Hailed by USA Today as "Pure Genie-Us, ALADDIN features all of the favorite songs from the film and more. It's an extraordinary theatrical event where one lamp and three wishes make the possibilities infinite. See why audiences and critics agree, ALADDIN is "Exactly What You Wish For," (NBC-TV).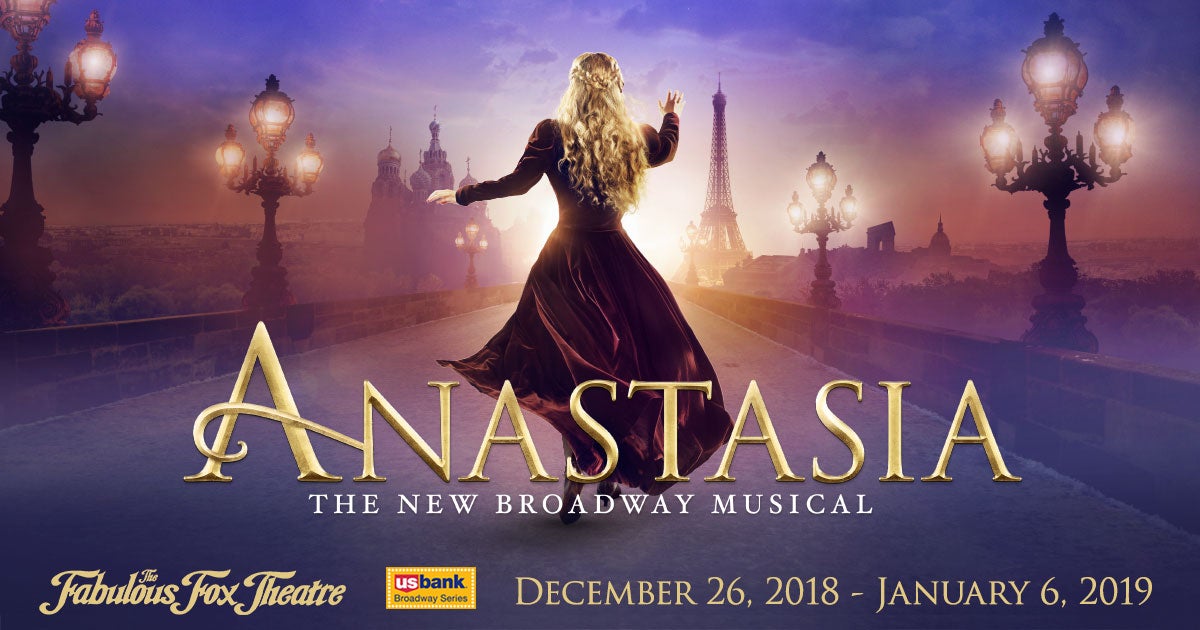 ANASTASIA | December 26, 2018 – January 6, 2019
Inspired by the beloved films, the romantic and adventure-filled new musical ANASTASIA is on a journey to St. Louis at last! From the Tony Award®-winning creators of the Broadway classic Ragtime, this dazzling show transports us from the twilight of the Russian Empire to the euphoria of Paris in the 1920s, as a brave young woman sets out to discover the mystery of her past. Pursued by a ruthless Soviet officer determined to silence her, Anya enlists the aid of a dashing conman and a lovable ex-aristocrat. Together, they embark on an epic adventure to help her find home, love, and family. ANASTASIA features a book by celebrated playwright Terrence McNally, a lush new score by Stephen Flaherty (music) and Lynn Ahrens (lyrics) with direction by Tony Award® winner Darko Tresnjak.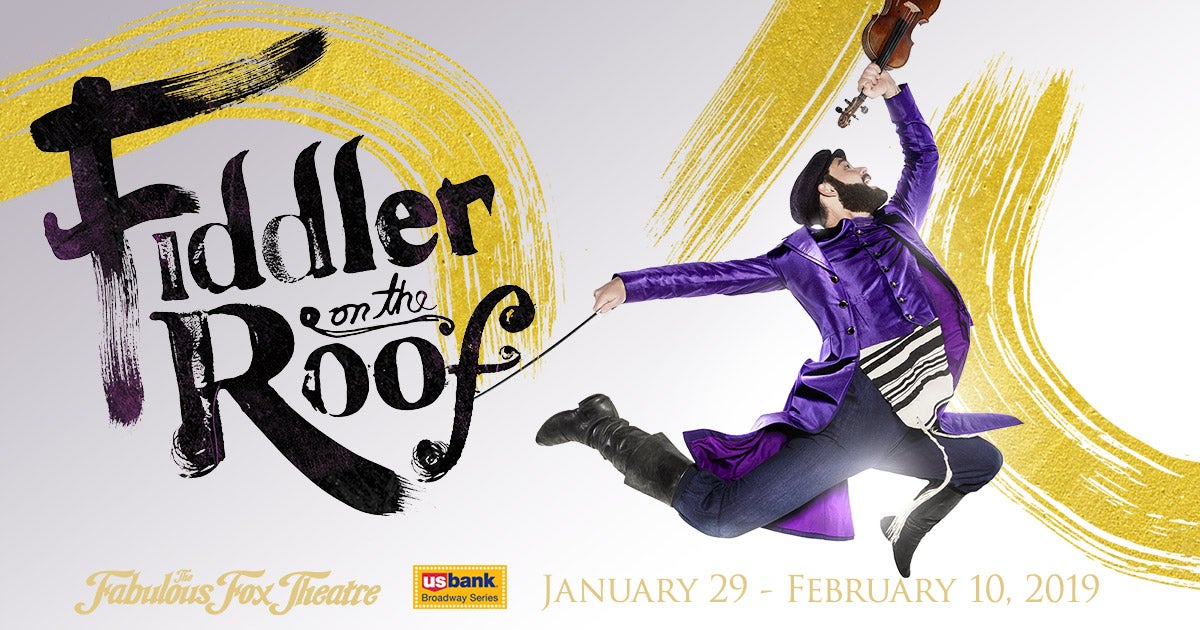 FIDDLER ON THE ROOF | January 29 – February 10, 2019
"An entirely fresh, funny, and gorgeous new production. A REASON FOR CELEBRATION!" – New York Magazine Tony®-winning director Bartlett Sher brings his fresh take on a beloved masterpiece to life as FIDDLER ON THE ROOF begins a North American tour direct from Broadway. Rich with musical hits you know and love including "Tradition," "Sunrise, Sunset" "If I Were a Rich Man," "Matchmaker, Matchmaker" and "To Life (L'Chaim!) FIDDLER ON THE ROOF is the heart-warming story of fathers and daughters, husbands and wives, and the timeless traditions that define faith and family. FIDDLER ON THE FOOF will introduce a new generation to the uplifting celebration that raises its cup to joy!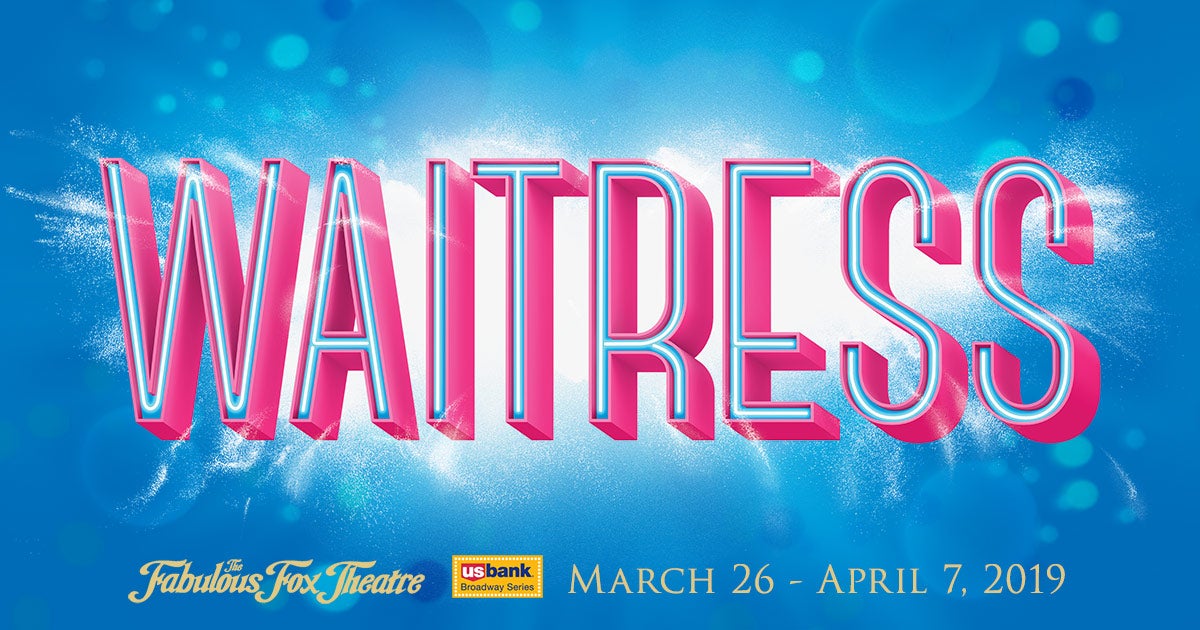 WAITRESS | March 26 - April 7, 2019
Inspired by Adrienne Shelly's beloved film, WAITRESS tells the story of Jenna - a waitress and expert pie make, who dreams of a way out of her small town and loveless marriage. A baking contest in a nearby county and the town's new doctor may offer her a chance at a fresh start, while her fellow waitresses offer their own recipes for happiness. But Jenna must summon the strength and courage to rebuild her own life. Brought to life by a groundbreaking all–female creative team, this irresistible new hit features original music and lyrics by six-time Grammy® nominee Sara Bareilles ("Brave," "Love Song").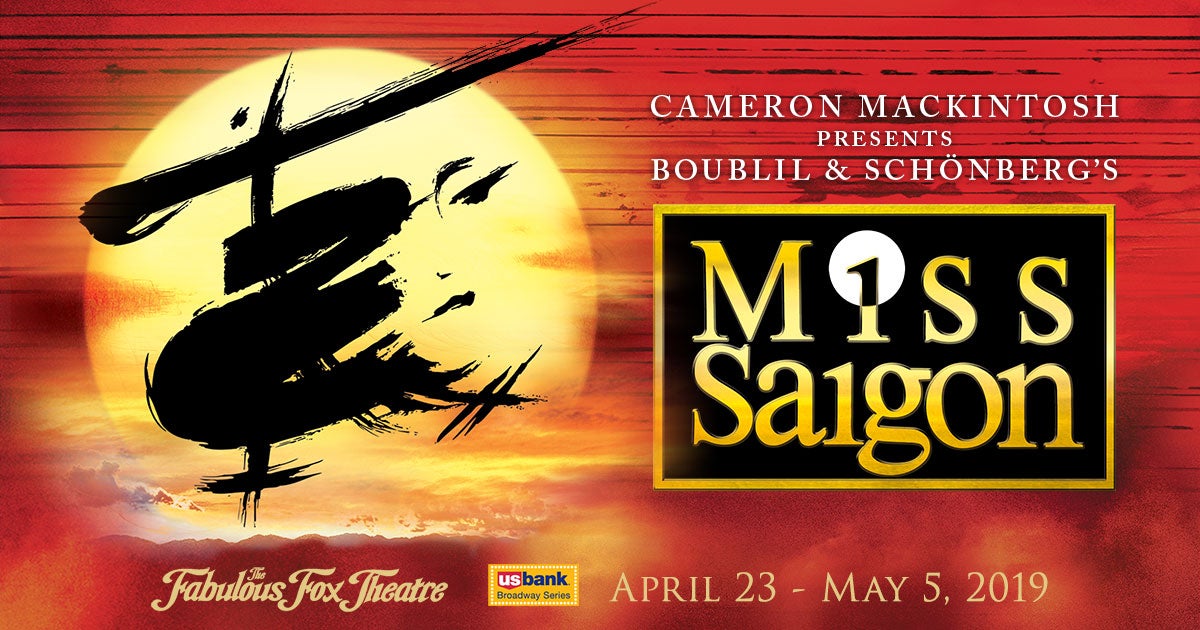 MISS SAIGON | April 23 – May 5, 2019
The acclaimed new production of the legendary musical MISS SAIGON, from the creators of Les Misérables, is the story of a young Vietnamese woman named Kim. In a bar run by a notorious character called The Engineer, Kim meets Chris, an American G.I. That encounter will change their lives forever and take Kim on an epic journey of survival to find her way back to Chris. Featuring stunning spectacle, a sensational cast of 42, and a soaring score including Broadway hits like "Last Night of the World," "The Movie in My Mind," and "The Heat is On in Saigon," this is a theatrical event you will never forget.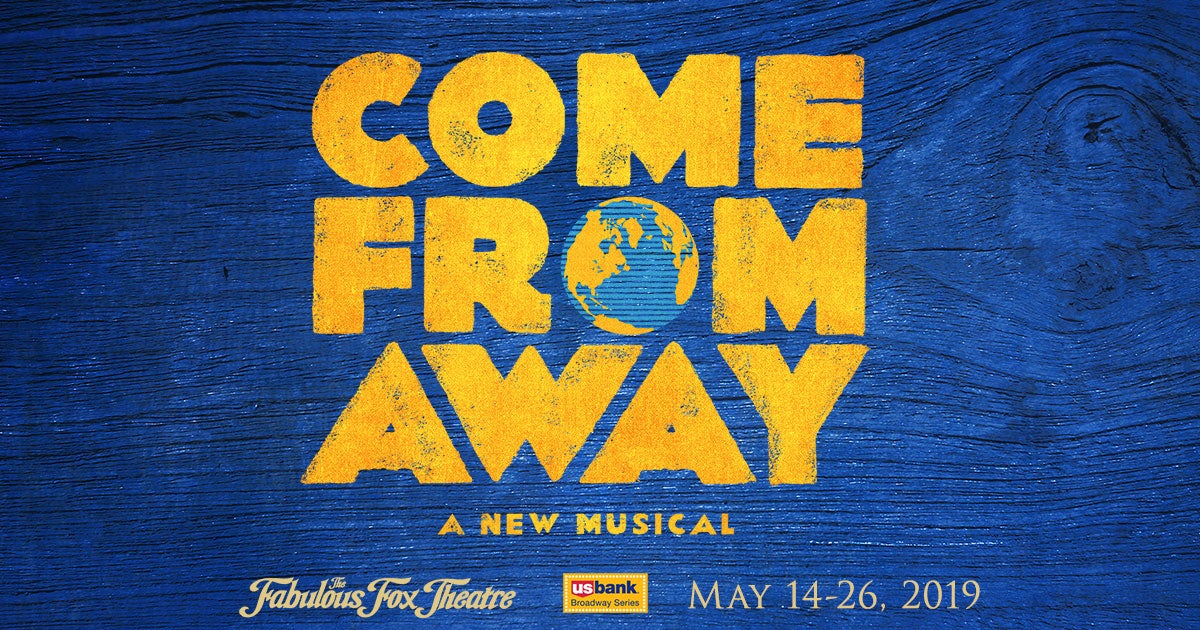 COME FROM AWAY | May 14 – 26, 2019
Broadway's COME FROM AWAY is the true story of the small town that welcomed the world. The New York Times Critics' Pick takes you into the heart of the remarkable tale of 7,000 stranded passengers and the small town in Newfoundland that opened their homes and hearts to them. Cultures clashed and nerves ran tight until uneasiness turned into trust, music soared into the night, and gratitude grew into enduring friendships. On 9/11, the world stopped. On 9/12, their stories moved us all.
SERIES SPECIALS
Eight Broadway specials will be offered to 2018–2019 season ticket holders for priority seating before their public on-sale dates.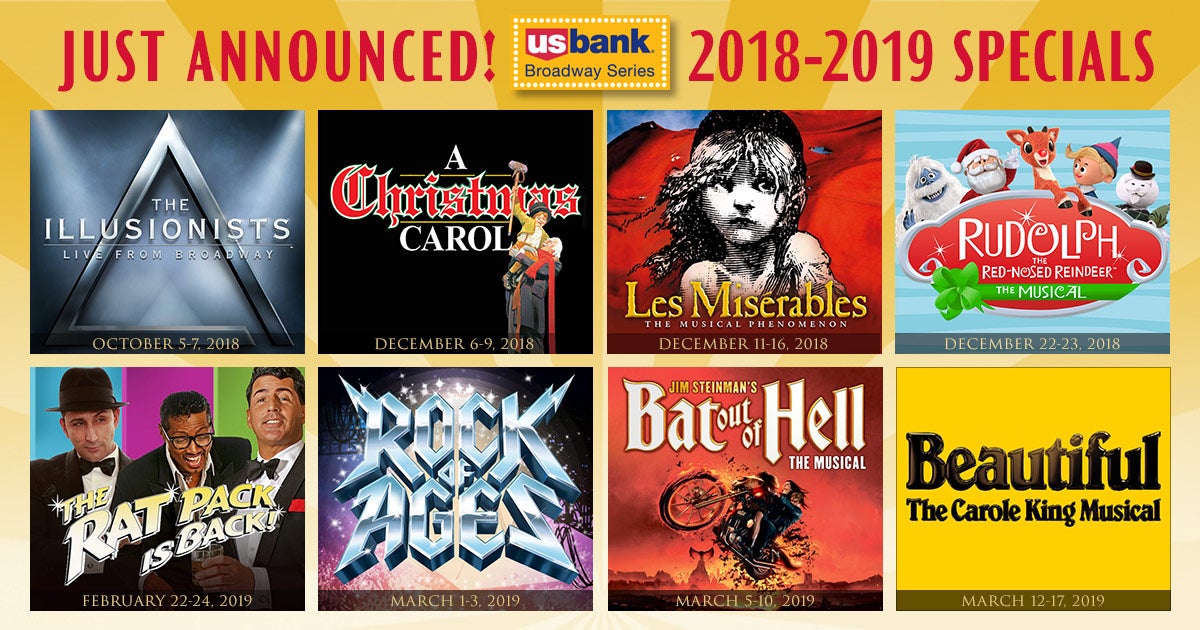 The mind blowing spectacular show, The ILLUSIONISTS, will amaze St. Louis audiences October 5-7. Nebraska Theatre Caravan's A CHRISTMAS CAROL will return to celebrate its 40th Anniversary tour December 6-9. LES MISÉRABLES tells the unforgettable story of heartbreak, passion, and the resilience of the human spirit in a breathtaking new production December 11-16. The beloved television classic RUDOLPH THE RED-NOSED REINDEER: THE MUSICAL soars off the screen and onto the Fox stage December 22-23. THE RAT PACK IS BACK recreates that time when Las Vegas's most famous hipsters ruled the stage February 22-24. ROCK OF AGES Tenth Anniversary Tour will blaze into St. Louis March 1-3. The romance of rock 'n' roll comes alive on stage in BAT OUT OF HELL-The Musical March 5-10. The Tony® and Grammy® Award-winning inspiring true story BEAUTIFUL – The Carole King Musical will grace the Fox stage March 12-17.
***
2018 – 2019 U.S. Bank Broadway Series Shows and Specials:
LOVE NEVER DIES * September 18-30, 2018
THE ILLUSIONISTS * October 5-7, 2018
Disney's ALADDIN * November 7-25, 2018
A CHRISTMAS CAROL * December 6-9, 2018
LES MISÉRABLES * December 11-16, 2018
RUDOLPH THE RED-NOSED REINDEER: THE MUSICAL * December 22-23, 2018
ANASTASIA * December 26, 2018 – January 6, 2019
FIDDLER ON THE ROOF * January 29 – February 10, 2019
THE RAT PACK IS BACK * February 22-24, 2019
ROCK OF AGES * March 1-3, 2019
BAT OUT OF HELL – THE MUSICAL * March 5-10, 2019
BEAUTIFUL – THE CAROLE KING MUSICAL * March 12-17, 2019
WAITRESS * March 26 – April 7, 2019
MISS SAIGON * April 23 – May 5, 2019
COME FROM AWAY * May 14-26, 2019