CURTAIN CALL LOUNGE
Savor the experience
Curtain Call Lounge is the first Champagne bar in St. Louis, offering an extensive selection of the finest Champagnes and wines by the glass, local craft beers on tap and a cocktail menu that blends the freshly made flavors of classic cocktails. With seasonal culinary small plates and shared menu items, the Curtain Call menu showcases regional and fresh ingredients in timeless combinations.
The perfect spot for Champagne before and after a show, Curtain Call Lounge is located in an exquisite Byzantine-inspired space that recalls the Eastern architecture of the Fabulous Fox. Graceful arches and tile patterns, massive gold palm trees and a draped ceiling are some of the unique features that make Curtain Call Lounge the perfect space for any special event.
Curtain Call Lounge was voted the Sexiest Bar in St. Louis (Riverfront Times April 2016) and is the 2016 winner of an AIA St. Louis Citation Award for interior design.
Before shows at the Fabulous Fox Theatre, Curtain Call employs the following guides; We do not take reservations for dining. Upon arrival please check in with the host or hostess to be seated or put on the waitlist. Parties are not always seated in the order in which they have signed in, rather according to the size of the party and tables that become available. You will be seated when everyone in your party has arrived. Thank you for selecting Curtain Call for your pre-show dining.
During Fox performances, Curtain Call Lounge can also be accessed from the theatre lobby so you can get your favorite Curtain Call beverage at intermission. The Lounge is also available for private events. Guests may make a reservation for 8 or more by calling 314-657-5070. The reservation will be held for up to 10 minutes.
---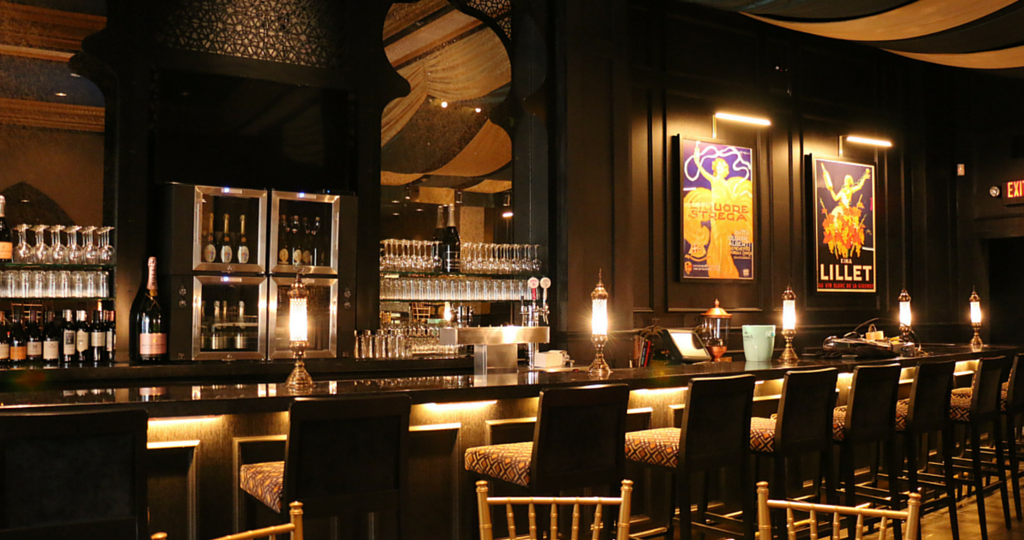 Hours
Regular Hours:
Curtain Call Lounge opens at 5pm for evening performances, or 2 hours before matinees and usually remains open until an hour after the day's last performance.

Upcoming Hours:
CLOSED Sunday, September 24 - Thursday October 5
Friday, October 6, 5pm - 1 hour post-show (The Temptations & The Four Tops)
Saturday, October 7, 5pm - 1 hour post-show (Bill Maher Live!)
CLOSED Sunday, October 8 & Monday, October 9
Beetlejuice:
Tues October 10: 5pm - after intermission
Wed October 11: 5pm - after intermission
Thu October 12: 5pm - 1 hour after the show
Fri October 13: 5pm - 1 hour after the show
Sat October 14: Noon - 1 hour after evening performance
Sun October 15: 11am - after intermission of evening performance
Mon October 16: CLOSED
Tues October 17: 5pm - after intermission
Wed October 18: 5pm - after intermission
Thu October 19: 3pm - 1 hour after the evening performance
Fri October 20: 5pm - 1 hour after the show
Sat October 21: Noon - 1 hour after evening performance
Sun October 22: 11am - after intermission
Mon October 23: CLOSED
Tue October 24: 5pm - 7pm (Nate Bargatze)
Wed October 25: 5pm - 7pm (Nate Bargatze)
Thu October 26: CLOSED
Fri October 27: 5pm - 1 hour after the show (Nate Bargatze)
Sat October 28 - Tue October 31: CLOSED