Alton Brown Live
Beyond the Eats
Alton Brown is hitting the road with a new culinary variety show. Audiences can expect more comedy, more music, more highly unusual cooking demos, and more potentially dangerous sciencey stuff. Prepare for an evening unlike any other and if Brown calls for volunteers… think twice.
#AltonBrownLive
Buy Tickets
March
15
, 2022
/

Tuesday

7:30 PM
Additional Ticket Options
Guests ages 12 and older will be required to show proof of full COVID-19 vaccination or a negative COVID-19 test along with a photo ID for entry into the theatre. If children between the ages of 12-17 do not have a photo ID, a parent or guardian will be required to verify their identity. Guests are required to wear face masks that fully cover the mouth and nose while inside the theatre.
• To be considered fully vaccinated, a ticket holder's performance must be at least 14 days after their second dose of the Moderna, Pfizer or AstraZeneca vaccine or at least 14 days after their single dose of the Johnson & Johnson vaccine.
• Original vaccination cards, printed copies of vaccination cards, or digital copies of vaccination cards will be accepted as proof of vaccination.
• Vaccination cards should legibly reflect the cardholder's name, birthday and vaccine date(s).
• Guests who cannot provide proof of vaccination may provide proof of a negative COVID-19 test using either a PCR test taken within 72 hours of the ticket holder's performance or an antigen rapid test taken within 24 hours of the ticket holder's performance. Either of these must be administered by a healthcare or pharmacy provider. Self-administered at-home tests will not be accepted. Nomi Health in Grand Center (Rapid Testing)
• A photo ID must be presented along with the vaccination or negative test documents.
• Guests between the ages of 2 and 11 will not be required to provide proof of vaccination or a negative test but will be required to wear a face mask at all times.
We are pleased to offer Online Fan Check-In, allowing our Fabulous Fox guests to upload their vaccination card or negative COVID-19 test results onto their smart phone before arriving at the theatre. Guests who upload their information prior to their arrival will be directed to a separate line for faster check-in. Go to Fan Check-In on your smart phone beginning 72 hours prior to your event to start the process.
While we recognize these protocols will not provide perfect protection against contracting the COVID-19 virus, they represent our industry's best chance to get back to presenting live entertainment for our audiences and much needed work for our associates. To see our full Protocols page click here.
Everyone must have a ticket, regardless of age. Prices are subject to change.
All tickets in the Orchestra Pit include the VIP Experience.
There is a 1 week hold on ticket delivery.
| TICKET TYPE | TICKET PRICE |
| --- | --- |
| Orchestra Pit (VIP) | $135.00 |
| Premium Orchestra | $65.00 |
| Front Orchestra | $65.00 |
| Center Mezzanine | $65.00 |
| Mid Orchestra I | $65.00 |
| Side Mezzanine | $65.00 |
| Mid Orchestra II | $55.00 |
| Lower Balcony | $55.00 |
| Middle Balcony | $55.00 |
| Rear/Side Orchestra | $45.00 |
| Orchestra Corners | $45.00 |
| Upper Balcony | $45.00 |
All orchestra pit seating includes the VIP Experience:
​​​​​What is the VIP Experience?
Fans who purchase the VIP Experience will be invited to attend an intimate Q&A session.
Also, VIP's will be given first access to purchase tour merchandise and will receive a VIP laminate when they enter the theatre.
VIP Experience is limited to 100 people.

Where will I pick up my VIP tickets?
VIP tickets will ONLY be held at the venue box-office window or lobby for pick-up. Your VIP Experience is Non-Transferable. Please bring a PHOTO ID matching the PURCHASER OR ATTENDEE NAME on your order.

When do VIP ticket holders get to enter the venue?
Please make sure that you arrive in plenty of time for your VIP experience.

7:30pm curtain time
VIP ticket holders will enter the venue to purchase Merchandise @ 6:00pm.
The Q&A session is at 6:30pm

How long does the VIP Experience last?
The Q&A session will last between 20 and 30 minutes.

Do VIP ticket holders get preferred seating?
By purchasing a VIP ticket, you will be purchasing one of the best seats in the house!

Will Alton Brown be taking pictures/signing autographs during the VIP Experience?
No, Mr. Brown is not scheduled to do any photos or autograph sessions. However, photos will be allowed during the VIP experience. Video is strictly prohibited.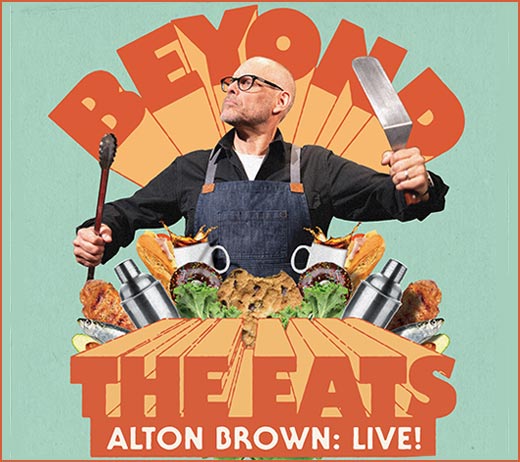 Date

March

15

, 2022

Event Starts

7:30PM

On Sale

Find Tickets

Ticket Prices

$45 - $135