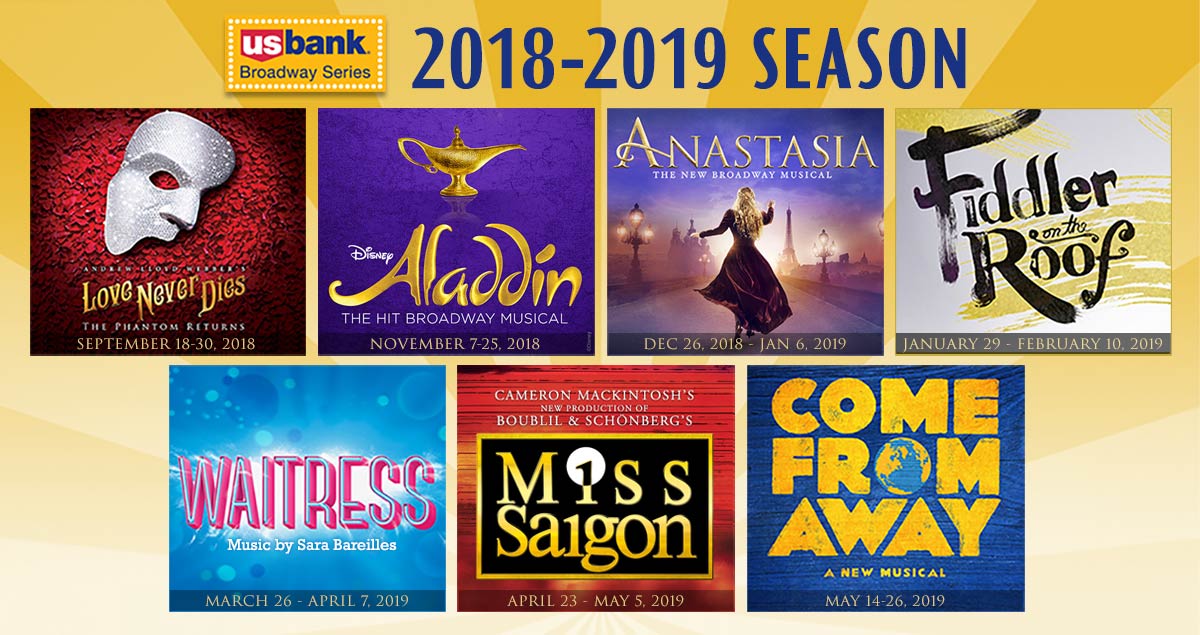 2018-2019 U.S. Bank Broadway Series
Join us for a Fabulous Season Featuring Five Shows Making their Fox Debuts!
The 7 Show Season Ticket Package is Now on Sale
Subscription Services • 314-535-1700
The Fox Box Office at 531 N. Grand Blvd.
This Season's Specials:
Season Ticket Subscribers to the U.S. Bank Broadway Series receive these fabulous benefits:
THE BEST SEATS in the house for all seven Season Ticket package shows.

PRIORITY ADVANCE PURCHASE OPPORTUNITY for extra tickets to your season ticket shows and the FABULOUS Specials listed above.*

SWAP ONE

of your seven Season Ticket shows for seats to one of the other shows or one of our Broadway Specials listed above.*

SAVINGS on select series shows and performances.
EXCHANGE PRIVILEGES within the same show.*
CONCERT PRESALE PURCHASE OPPORTUNITY online only through MetroTix for select performances
DINING DISCOUNTS at many fine restaurants in our area..
TICKET REPLACEMENT for lost or stolen tickets.

Current Season Ticket Subscribers can contact the Season Ticket Office at 314-535-1700 Monday through Sunday, 10am to 8pm or by email.
2018-2019 U.S. Bank Broadway Series 7-Show Season Ticket Packages
Season ticket holders may choose from two weeks of performances with times and days as listed below. (Prices include 1 ticket to all seven shows.) Guest wanting to utilize our bill plan should contact our office by phone at 314-535-1700, or in person at the Fox Box Office
Fri & Sat
7:30pm
Sat 2pm;
Sun 1pm
Thu 7:30pm;
*Sun 6:30pm
Tue & Wed
7:30pm
Thur 1pm
A
Sold Out
Sold Out
Sold Out
Sold Out
Sold Out
B
$570
$560
$485
$450
$420
C
$486
$468
$418
$388
$352
D
$392
$377
$318
$296
$278
E
$240
$240
$217
$217
$189
Sunday Evening season tickets are available in week 1 only
Thursday matinee season tickets are available in week 2 only EXCEPT:
ALADDIN Thur matinee will be in week 1 on November 8
ANASTASIA Thur matinee will be in week 1 on December 27
OTHER EXCEPTIONS:
ALADDIN first Tue evening tickets will be issued for Tue November 20
ANASTASIA first Tue evening tickets will be issued for Sun January 6