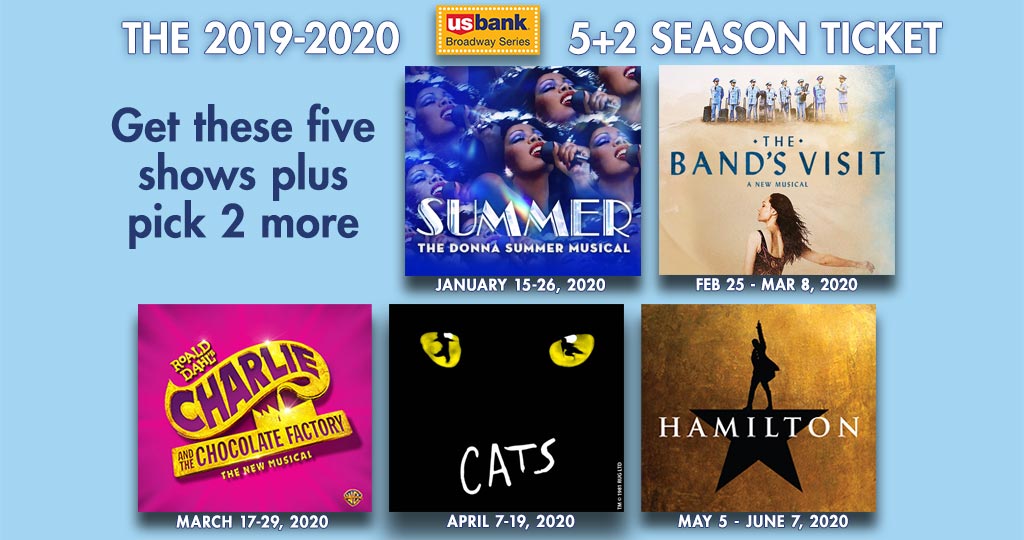 New 7-Show Season Ticket packages are NOW ON SALE.
Please contact the Fabulous Fox Subscription Office for current pricing and availability or check below.
There is a limit of 8 season tickets per household.
This Season's Specials:
Season Ticket Subscribers to the U.S. Bank Broadway Series receive these fabulous benefits:
FABULOUS SEATS for all seven fabulous Season Ticket shows.
SWAP ONE* option to swap one of your Season Ticket shows into any of the 2019-2020 Broadway season shows except HAMILTON. Please note: Season Ticket holders may Swap Out of HAMILTON, however may not Swap In.

PRIORITY ADVANCE PURCHASE opportunity for the specials and extra tickets to your season ticket shows before the tickets go on sale to the general public, except we are not able to offer additional tickets to HAMILTON. More information is available in your season ticket packet.

EXCHANGE PRIVILEGES* within the same show. Please note: HAMILTON ticket exchanges will be available for a limited time. More information can be found in your season ticket packet.
SPECIAL PRICING* on select series shows and performances
NO WAITING in line for single ticket sales; your subscription tickets are mailed to you well in advance.
PROTECTION against lost or stolen tickets.
CONCERT PRESALE PURCHASE OPPORTUNITY for select performances at the Fabulous Fox.
*Prices vary by show and by performance. Prices may change without notice. Additional ticket costs may be due when swapping or exchanging tickets.
---
Current Season Ticket Subscribers can contact the Season Ticket Office at 314-535-1700 Monday through Sunday, 10am to 8pm or by email. The 2019-2020 renewal deadline was April 29th. All unclaimed seats have been released and used for relocations and new sales. However, you can still call renew your subscription by calling the Season Ticket hotline at 314-535-1700 10am-8:30pm or email. We will be happy to discuss available seating options with you.
---
2019-2020 U.S. Bank Broadway Series 7-Show Season Ticket Packages
Season ticket holders may choose from two weeks of performances with times and days as listed below. (Prices include 1 ticket to all seven shows.)
Your package will include 1 ticket for the same performance time and seating location for:
SUMMER: The Donna Summer Musical,
THE BAND'S VISIT,
CHARLIE AND THE CHOCOLATE FACTORY,
CATS,
and HAMILTON
Rounding out your subscription package are 2 additional shows:

1 ticket to 2 of the SEASON SPECIALS listed above. Your SEASON SPECIAL ticket choice does not need to match your performance time and seating location to the other 5 shows and will affect the final total price of your package.
TOTAL PACKAGE PRICING varies based on your Date, Time, Seat, and SPECIAL selection.
You can select, review, and purchase your season ticket package online or contact the Fabulous Fox Subscription Office to discuss pricing and seating options at (314)535-1700.
Your Five-Show Combo Price + Your 2 Season Special Price = Your Full Subscription Package Price
There is an 8 season ticket package limit per household.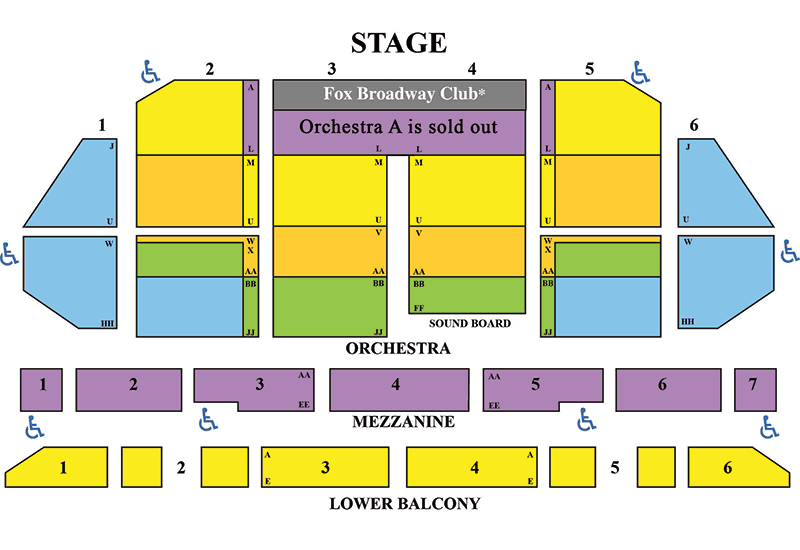 * Seating in the Fox Broadway Club (Rows A-E) is SOLD OUT. Amenities and prices can be viewed here.

Important Performance notes:
"A" price is only available in the Mezzanine ("A" price Orchestra is sold out)
Sunday evening season tickets are available in week 1 only. *HAMILTON Sunday Eve. performance is at 7:30pm.
Thursday matinee season tickets are available in week 2 only. EXCEPTIONS: SUMMER Thurs. matinee will be in week 1 on January 16. HAMILTON Thurs. matinee will be in week 3 on May 21.
Seating availability on the Orchestra level may be extremely limited at some performances.
Additional "C" price seating may be available in the balcony for some performances.
First Tuesday evening: SUMMER tickets will be issued for Sun. Jan. 26 at 6:30pm.
*HAMILTON Saturday evening performances are at 8pm.