The 2021-2022 U. S. Bank Broadway Series.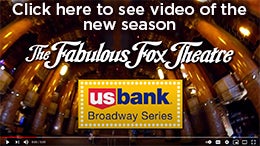 Individual tickets now on sale (to all U.S. Bank Broadway shows except LION KING.)

The health and safety of our guests and associates is important to us. The safety protocols for each show on our event calendar may vary based on CDC guidance at the time as well as any requirements or recommendations by our government jurisdictions or the shows' producers. Protocols for each engagement will be updated on the individual event pages as they are determined.
6-SHOW SEASON TICKET PACKAGE:
CATS | December 21, 2021 - January 2, 2022
THE PROM | January 25 - February 6, 2022
MEAN GIRLS | February 15-27, 2022
MY FAIR LADY | March 22 - April 3, 2022
HAMILTON | April 12 - May 15, 2022

Please note the following Season Ticket schedule exceptions:
1st Tuesday Evening: THE LION KING will be June 14 at 7:30pm.
1st Friday Evening: CATS will be December 24 at 1pm
1st Saturday Matinee: CATS will be Thursday, December 23 at 1pm.
1st Saturday Evening: CATS will be Monday, December 27 at 7:30pm.
2nd Thursday Matinee: THE LION KING will be June 2 at 1pm.
2nd Friday Evening: CATS will be Sunday, January 2 at 6:30pm.


Season Ticket Subscribers to the U.S. Bank Broadway Series receive these fabulous benefits:
FABULOUS SEATS for all six fabulous Season Ticket shows.
SWAP ONE* The option to swap one of your Season Ticket shows into any of the 2021-2022 Broadway season shows. (Details sent with your Season Tickets)
EXCHANGE PRIVILEGES* within the same show. (Details sent with your Season Tickets)
PRIORITY ADVANCE PURCHASE opportunity for the Specials and for extra tickets to your season ticket shows. (Details sent with your Season Tickets)
SPECIAL PRICING* on select series shows and performances
NO WAITING in line for single ticket sales: your subscription tickets are issued to you well in advance.
PROTECTION against lost or stolen tickets.
CONCERT PRESALE PURCHASE OPPORTUNITY for select performances at the Fabulous Fox.
*Prices vary by show and by performance. Prices may change without notice. Additional ticket costs may be due when swapping or exchanging tickets.
TICKET DELIVERY OPTIONS
We are pleased to offer the following options for you to receive your season tickets: MOBILE TICKETS to be scanned directly from your mobile device, or PRINT-YOUR-OWN tickets for you to print and present at the door. As you complete your online purchase, you will be prompted to make your selection.
PRE-PAID PARKING
You will have the opportunity to add pre-paid parking when you subscribe online. Purchase parking for your entire season and save $2 per event.
If you have already purchased a subscription and did not add parking at that time, you may purchase the parking package separately by selecting your subscription series:

FOX THEATRE GARAGE PARKING: 6-SHOW COMBO
Please note: Pre-paid garage parking is not available for the Thursday matinee subscription. Pre-paid parking for shows rescheduled to weekday matinees may be relocated to the surface lot next to the parking garage, depending on availability.

---
The season ticket office is currently operating with limited staff and shortened hours, M-F 10am-5pm. For questions please email us at subs@foxstl.com.
Please note: The Fox Box Office is temporarily closed until late 2021 EXCEPT on show days.
Box Office Hours