'TIS THE BROADWAY SEASON!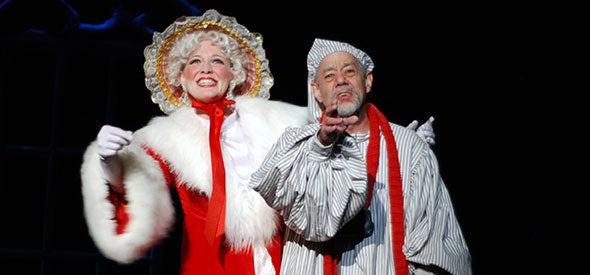 The holiday season is in full swing at the Fabulous Fox and you won't hear a single "bah humbug" from us! A jam-packed holiday line-up is heading our way, featuring A Christmas Carol, Les Misérables, Rudolph the Red-Nosed Reindeer, and the Broadway hit Anastasia. Haven't gotten gifts for friends or family yet? Don't worry,
we've got a few ideas…

Broadway Celebrates Thanksgiving

Broadway's hottest new shows bundled up and rocked out at the Macy's Thanksgiving Day Parade last Thursday and we are VERY thankful! The Prom, Mean Girls, Summer: The Donna Summer Musical, and My Fair Lady kicked off the holiday season with incredible performances and we've had these videos on repeat all weekend. CHECK IT OUT.

Want a little Thanksgiving Broadway throwback? CLICK HERE to see the cast of Waitress performing at the Thanksgiving Day Parade in 2016 before the show heads to the Fabulous Fox this spring!

---

The Divas Take Broadway

Let's dance! Donna Summer is dishing out her biggest hits on Broadway and we definitely have disco fever. With a diva this great, the Broadway show has enlisted not one, not two, but THREE actresses to portray the queen of disco. You better believe they work hard for the money! If you need to brush-up your dance moves, we've got you covered, so CLICK HERE.

Up the road, Cher is turning back time as The Cher Show begins its Broadway run. We can't wait to see the show, but we REALLY can't wait to see what Cher wears to opening on December 3! Our crystal ball says sequins will be involved.

---

The Tony Awards® Race is On!

Things are heating up on Broadway with 11 brand new musicals opening this season. The newest addition to Broadway, The Prom, has its eyes on the Tony Award for Best Musical after receiving rave reviews. But it will have some tough competition!

Next up, a brand new Temptations musical called Ain't Too Proud, and film adaptations of Tootsie and Beetlejuice. This year's battle for the Best Musical Tony Award is going to be exciting!

Tickets purchased through MetroTix are subject to non-refundable service and handling charges.
527 N. Grand Blvd., St. Louis, MO 63103 | 314-535-1700
{[Uniue_email_OptOut|1521]}